Collaborative Solutions
"People affected by change have to be deeply involved in the crafting of solutions...We have to get better at both involving people in the process of change and providing them with enough information to make that involvement useful and worthwhile."
-- William D. Ruckelshaus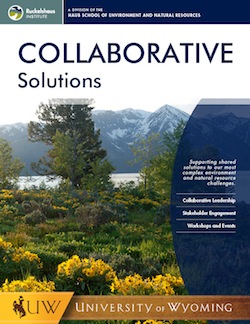 The Ruckelshaus Institute's collaborative solutions program supports natural resource stakeholders, policy makers, and managers in making decisions about the future. We achieve this by:
Combining scientific information, human values and decision support
Developing effective, lasting solutions to environmental problems
Using the Ruckelshaus Institute's cadre of experts who convene stakeholders and representatives from private business and industry, public interest groups, landowners and government
Exploring policy alternatives, management priorities and future visions
Read our flyer describing our work in Collaborative Solutions.
Collaboration Program in Natural Resources
The Collaboration Program in Natural Resources (CPNR) provides professional training for a cohort of mid- and upper-level natural resource decision makers and engaged citizens. In six rigorous sessions, participants will gain skills and knowledge to apply collaborative processes to complex environment and natural resource challenges to build lasting, supported solutions. We accept 12 to 16 participants into the program each year. The application period is in April.
Current and Recent Projects
Wyoming Public Lands Initiative
The core goal of the Wyoming Public Lands Initiative (WPLI) is to develop a locally-led, Wyoming-specific, legislative lands package to address designation, release, or other management for Wilderness Study Areas in Wyoming. The WPLI is a voluntary project initiated and led at the county level that will culminate in legislation forwarded to Wyoming's Congressional delegation. Teton and Sublette Counties in Wyoming are engaging the Ruckelshaus Institute's Collaborative Solutions Program to help create an inclusive collaborative process for developing recommendations.
Thunder Basin Collaborative Learning Workshops
The Ruckelshaus Institute explored stakeholder perspectives regarding prairie dog management and collaborative problem solving opportunities on the Thunder Basin National Grassland. This situation assessment resulted in a recommendation for a collaborative process to seek management solutions. In 2015, the Ruckelshaus Institute will facilitate a series of collaborative learning workshops for Thunder Basin National Grassland stakeholders.
Forest Collaboratives
In 2015, Wyoming Governor Matt Mead's Task Force on Forests developed recommendations for managing the state's forests. One such recommendation was to support local collaborative partnerships, and the state provided funding to get such groups started. The Ruckelshaus Institute is assisting two Wyoming Forest Collaborative Assistance Program (FCAP) groups in Sublette and Lincoln Counties as they build the foundation for a collaborative process moving forward.