Ruckelshaus Institute
Haub School of Environment and Natural Resources

Best Western, Lander, Wyoming
April 29-30, 2013
Purpose
This forum will bring together professionals interested in participating in or leading natural resource collaborative efforts in Wyoming. We will discuss lessons learned from past and present collaborative efforts, identify barriers and opportunities, and explore the needs to facilitate future efforts. Furthermore, participants will meet other individuals who are interested in collaborative problem solving in natural resource management. This will be the first of regular forums that the Ruckelshaus Institute will host to enhance collaborative capacity in Wyoming. We welcome your participation to make these forums meaningful.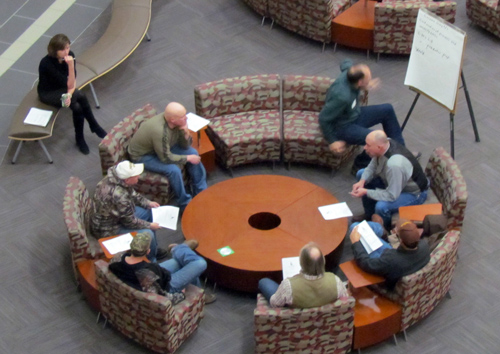 Why Attend? 
Network with other interested professionals
Explore barriers and opportunities
Discuss ways to leverage resources toward collaborative problem solving
Learn about existing efforts, their successes, and lessons learned
Create an ongoing discourse about collaborative problem solving in Wyoming
Engage in collaborative problem solving to create lasting, place-based, and grounded solutions
Draft Schedule
Monday, April 29, 2013
12:30 p.m. Welcome and purpose, Indy Burke
12:45 p.m. Introduction to the Collaboration Program in Natural Resources, Jessica Clement
1:00 p.m. Keynote address: Steve Daniels, "Collaborative Conservation: A Barn Raising for the Modern West"
2:00 p.m. Discussion surrounding existing collaborative efforts in Wyoming and lessons learned
Daryl Lutz, Platte Valley Habitat Partnership
Tara Kuipers, UW Extension and Wyoming communities
Mary Margaret Golten and Shane DeForest, Collaborative problem solving with the BLM/state team in Pinedale, Wyo.
Bob Budd, sage grouse core areas and conservation plan
4:45 p.m. Steve Smutko, "What do we mean by 'collaboration'?"
6:00 p.m. Cash bar with hors d'oeuvres
Tuesday, April 30, 2013
7:30 a.m. Breakfast
8:00 a.m. Distinguished speaker: Michael Kern, "Collaboration for Place and Public Policy: A State of Washington Example"
9:00 a.m. to noon: Participatory discussion
Opportunities and barriers to collaborative problem solving in Wyoming
Resources available to support collaborative problem solving in Wyoming
Needs to enhance collaborative capacity and network building