First-Year and Transfer Student Applications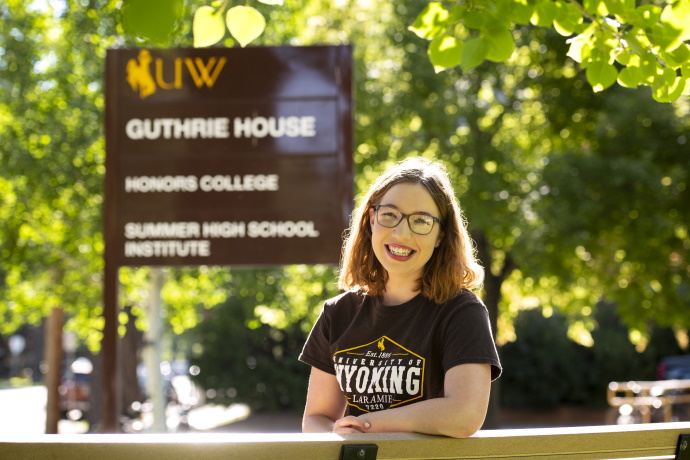 Application
Please apply to the Honors College when submitting your general application to UW. There is a space provided in the general application to apply to Honors.
If you have already submitted your UW application, you can log back in to the application portal, go to the Program Enrollment page, indicate your interest in Honors and paste your essay of 250-500 words into the space provided.  Alternatively, you can email your essay to Rob Steele in Admissions at rsteele@uwyo.edu and he will attach it to your UW application.  The prompt for your Honors College application essay is provided below (and is also provided in the general application to UW).
The Application Process
The Honors College seeks well-rounded, ambitious, and curious learners and leaders. If you are ambitious and motivated, we encourage you to apply. The Honors College admissions committee considers academic performance and test scores holistically alongside your application essay and your high school transcript. 
Students admitted into the Honors College who are College of Engineering majors will automatically be accepted as Honors Engineering students.
In applications for Fall 2022, the University of Wyoming does not require SAT or ACT scores. You may include your scores, if you have them, in your application to the Honors College, but they are not required and you will not be disadvantaged if you do not have them. (However, test scores are still required to be considered for financial aid from UW.)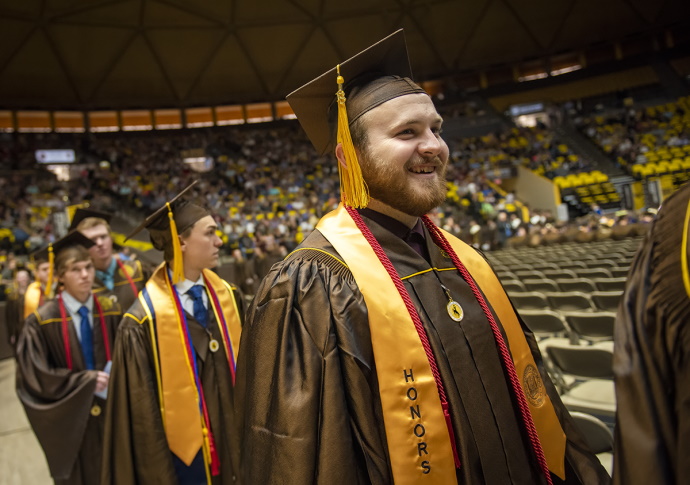 The Honors College reviews applications on a rolling basis. Students are admitted to the Honors College only after they have been accepted to UW.
The Honors College also welcomes applications from new transfer students. Transfer students entering the Honors College typically have an overall college GPA of 3.25 or higher. If a transfer student has completed 30+ post-high school credit hours, some first-year requirements in the Honors College may be waived.  If a student enters the Honors College with less than 30+ post-high school credit hours, they will complete the entire Honors minor curriculum.
Essay prompt 
The online application will ask you for an essay in response to the following instructions:
PART I
For the first section, please write an essay of 100-150 words answering the following question:
 "Based on your preliminary review of the UW Honors College curriculum, requirements and opportunities, (or your visit if you were able to do so!), what aspects of the program appeal to you most?" 
PART II
For the second section, please write an essay of 250-500 words on one of the following three prompts. You should feel free to take either a critical or a creative approach. Whatever your approach, your essay should communicate a little bit about who you are, what your passions are, and what kind of a difference you hope to make in the world.  Keep in mind that your application essay is the first opportunity for the Honors College to get to know you and begin to give you the specialized attention that is a major goal of our program.
1. Describe a problem you've solved or would like to solve. It can be a personal challenge or setback, an intellectual challenge, a research query, an ethical dilemma, or a community challenge. Explain the problem's significance, what steps you took or could take to solve it, and what challenges you faced or could face along the way. Please also discuss the benefits of the solution to you and/or the broader community.
2. Please share a meaningful quotation from a book, a song, a film, etc., and explain why this quotation is so important to you.  How does it express who you are or hope to become? 
3. Choose one of the following quotations about education and impact and explain how it fits with your thinking. You should refer to the quotation but also feel free to go beyond it:
"It is what we think we know already that often prevents us from learning" (Claude Bernard, scientist)
"Education is for improving the lives of others and for leaving your community and world better than you found it." (Marian Wright Edelman, children's rights activist)
"How wonderful it is that nobody need wait a single moment before starting to improve the world" (Anne Frank, diarist and Holocaust victim)



The Value of the Honors College