Contact Us
The Honors College
Guthrie House
1200 Ivinson St.
Laramie, WY 82070
Phone: 307-766-4110
Fax: 307-766-4298
Email: honors@uwyo.edu
Honors College Blog | Bridging the Social Distance | Kailee Behunin
Published April 06, 2020 - April 06, 2020
By Kailee Behunin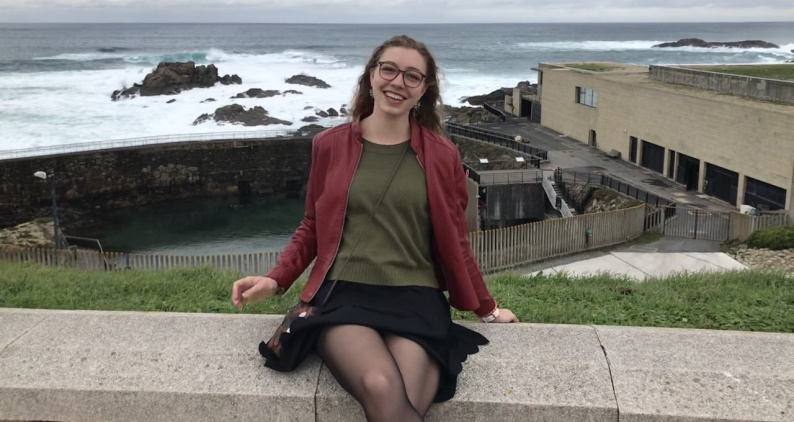 Kailee Behunin enjoying her study abroad experience in Spain.
Have you ever looked at a time-lapse photo of stars? Because that's how I feel. Not in a pretty, swirly, ethereal kind of way. It's more like everything has been compressed into a space that it isn't designed to fit in. Nothing is stable. How are you supposed to navigate when all your landmarks are moving?
Everyone tells me I should write about this experience. This crazy, once-in-a-lifetime tragedy of living through a pandemic in a foreign country. But aside from this horrible feeling that everything is spinning too fast to keep track of, all I can really connect to is an intense rage. 

As I'm sure everyone can relate to, the list of what this moment in my life was supposed to look like is breathtaking. I'm afraid that if I actually feel and express the emotions about it that I will come out on the other side in a puddle. So instead of wading into that emotional sludge, I'm just… numb. Because I can function that way. 

But every once in awhile, something resonates enough that all the emotions start to bubble up. Every day at 8pm, the people of Vigo, Spain go to their balconies and clap for all the people who can't stay home during this pandemic. But one night, we heard a different sound from the terrace. The entire street was banging together pots and pans. My host mom, almost crying from laughter, leaned out of the balcony to ask the neighbors what was going on. She explained to me, in our functional hodgepodge of Spanish and English, that it was a protest. In response to a scandal surrounding the former king, Juan Carlos and a large sum of money from Saudi Arabia, Spaniards all around the country went to their balconies banging together pots and pans. They were literally drowning out the king's speech, calling for the money to be donated to Coronavirus relief. The cacophony is called cacerolazo. It's been around for almost 200 years and has been used all over the globe. 

Before I had to come home, I lived under the Spanish lockdown. The police will stop you in the street and tell you to go home. You can't have passengers in a car or go for a walk with someone. There isn't any of Wyoming's "escape into the outdoors" mentality. You aren't allowed to go for a run or a hike or even drive out of town. I actually laid awake one night thinking about how one of my friends would fly home and I couldn't even hug her goodbye. She lived 5 minutes away from me. 

People returning from study abroad are often warned about culture shock. But there isn't a guidebook for when you are forced to abandon a country in a pandemic. There isn't a handy "how-to" for when the shock is seeing people in the streets, hugging in airports, going for a walk. I've had the uniquely uncharted experience of being in two different countries ranked #1 for Coronavirus cases in 24 hours. As I was flying home, Spain hit the number one slot in the world. By the time I landed, the US had taken its place. 

Everyone's life is on pause right now. But I can't postpone my study abroad. It's gone. And we rarely know that our last day of normal is the last. I won't spend my 20th birthday with my friends in Morocco. The woman at Philologia y Traduccion's cafeteria won't let me smell a fresh bag of coffee beans again. I won't run through the rain to my intercultural communications class because line 8 is always late and I refuse to walk all the way to Plaza America for the bus. I won't get unreasonably excited when a woman stops me in the street, mistaking me for a local, and asks for the time. I can almost see that alternate reality where all my plans aren't sent spinning like time-lapse stars. And it feels like my heart is a cacerolazo rattling in my chest, trying to drown out the galaxy.
Contact Us
The Honors College
Guthrie House
1200 Ivinson St.
Laramie, WY 82070
Phone: 307-766-4110
Fax: 307-766-4298
Email: honors@uwyo.edu