Honors Senior created a fashion show inspired by Downtown Laramie
May 29, 2019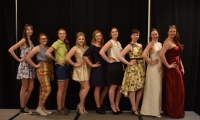 Nine models displaying Charles Johnson's looks walked down the runway as part of his Honors Senior Project.
Charles Johnson shared the results of his Senior Project, noting its surprising rewards.
My Senior Honors Project, "Laramie Locals", was a representation of the local businesses of Laramie through clothing. I interviewed the owners of eight businesses, and from these interviews and the businesses themselves I created an outfit for each business as if they were a character in a play. In the end I had eight (nine including the business I would like to start someday) outfits that I feel represent the different facets of Laramie in an artistic and wearable way.

 The most surprising thing I learned in this project was the deeper side to each business. There are aspects of each business I would not have known if I had not interviewed the owners. From their missions to their products and services, there are more to these businesses than what meets the eye. I strongly encourage everyone to pay a visit to them!

The most rewarding part of my project was the presentation. I did a creative project which allowed me a lot of freedom, and not as many guidelines as writing a paper. I took the creativity and ran with it. Being able to present my work to an audience in a formal setting, and explain my thought process behind each outfit and decision I made was thrilling and so fulfilling. I don't think I have ever been so happy and proud as I was when I saw my nine models walk down the runway.
By Charles Johnson
For more student spotlights click here.