Jasper Hunt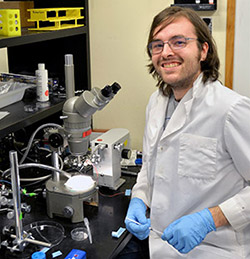 Jasper Hunt, a University of Wyoming student who grew up in Laramie, has been accepted into a neuroscience doctoral program at the University of Oxford in Oxfordshire, England. He is a senior majoring in psychology and philosophy, with minors in neuroscience and Honors.
Oxford University is consistently ranked as among the world's top 10 universities worldwide.
Hunt's family moved from Michigan to Indiana to New Hampshire for his father's work as an urban planner before settling in Laramie, where the younger Hunt attended Laramie Junior High School and Laramie High School.
After initial interest in philosophy when he enrolled at UW, Hunt became curious about the underlying mechanisms that give rise to personality and was drawn to psychology. He worked with Department of Psychology Associate Professor Robin Barry to study how writing style relates to personality. To gain an even deeper understanding of the actual processes behind brain functions and to satisfy his fascination with the mind, Hunt later turned to neurophysiology and, along the way, he worked with Associate Professor Kara Pratt in the Department of Zoology and Physiology.
Both UW professors have been instrumental in shaping his research interests, he says.
Last spring, Hunt spent a semester abroad at the University of Glasgow in Scotland, and was able to take courses in brain plasticity and a computational modeling course on the neuroscience of decision making. He spent last summer reading research papers and learning the essentials in the Pratt Lab at UW for forming his own research questions. The groundwork has paid off.
Hunt was awarded an IDeA Networks for Biomedical Research Excellence (INBRE) Fellowship for fall 2018 and spring 2019 for his proposal, titled "Tectal activity underlying phototactic preferences in the Xenopus laevis tadpole." Hunt uses electrophysiology to link neural activity to behaviors in tadpoles.
"Whether he is at a conference or studying abroad, Jasper makes sure he networks with other students and faculty," says Annie Bergman, UW's INBRE Education Program director. "His ability to ask questions and forge more than superficial connections has served Jasper well."
After submitting applications for various graduate programs, Hunt was invited to interview and present his INBRE research at the University of Oxford. Soon after that, he was accepted into the prestigious university's doctoral program on a full-ride scholarship.
Hunt, who will graduate from UW in May, is excited to begin his Oxford experience this summer. His professional goal is to become a professor of neuroscience and to continue future research work.
"I'm incredibly excited to take the next step in my education and I'm so thankful for everyone's help in getting to where I am now," Hunt says.
Hunt will present his research at the INBRE Conference Undergraduate's poster session Friday, April 26, in the Marion H. Rochelle Gateway Center and also at the Undergraduate Research and Inquiry Day Saturday, April 27.
Thomas Fenn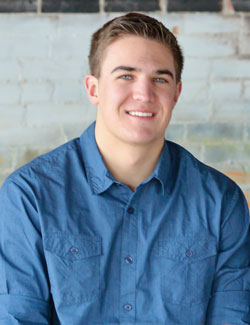 Scholarship Spotlight
(This article originally appeared in the winter 2019 AlumNews section of UWyo magazine.)

Thomas Fenn has the brains and character to accomplish his academic and professional goals of becoming a physician one day. Now, with a boost from the UWAA Premier Scholarship, he's relieved of some of the expenses of those goals.
Fenn is about to complete his studies in physiology, neuroscience and the Honors College, finishing in three and a half years. He's embarking on applications for various medical school programs, including WWAMI.

He has done all this while working the last three years at the neuroscience lab at UW and a night shift at the emergency room at the Cheyenne Regional Medical Center. He wrote a scholarly article, currently undergoing peer review. He also has found time to volunteer with Big Brothers/Big Sisters and enjoy what college life at UW is also about: making friends.

Fenn came to UW from Sheridan in part because his parents are alumni. "We were raised that we'd come to school here, and we came to town for games a lot," he says. Besides that, many of his friends were Laramie-bound.

He looked forward to combining his school time with plenty of outdoor recreation, including hiking, fishing and skiing. "I was a little hesitant about what I'd heard about it being cold and windy," he says. "But it has worked out."

Earlier in Fenn's life, he'd even thought that a ski shop, not a medical degree, could be in his future. But that was more of a fleeting thought than a real Plan B. When he was younger, Fenn had an illness, as did his father. "During this, I saw the positive aspects of medicine," he says. Since then, volunteering at medical clinics working with underserved populations showed him medicine was what he wanted to pursue.
One issue now is which medical field to enter someday—perhaps neuroscience, or maybe orthopedic surgery. But first he must determine where to go to school, if he should receive numerous acceptances.

"My parents probably want me to be in WWAMI because then I'd stay in Wyoming," Fenn says. That is a good thing, because that's what he hopes for, too. "Once I get into medical school, I'll be locked in for 10 years. Come January, it'll be time to relax, hang out and wait to see what happens."