George W. Hopper Law Library
College of Law
Golf Law
John Minan's The Little Green Book of Golf Law: The Real Rules of the Game of Golf, is a fascinating little book that discusses legal cases involving golf courses and golfers. Each chapter, numbered 1-19 for holes 1-18 and the nineteenth hole (the clubhouse), includes a description of a legal case, the legal issues involved, and a real rule of golf. The current display features three of the cases described in the book.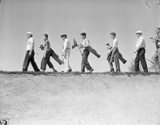 This cases addresses the question of who is responsible when a golfer is struck by lightning.
Tiger Woods, proving he is as aggressive with his business interests as he is with golf, features in this case involving the use of his likeness in a work of art.
Kurash v. J.C. Resorts, Inc., 00703109 Sup. Ct., San Diego, CA (1996) 
Is the golf course management responsible for Mr. Kurash's impotency?
The photo above, which was taken from the Library of Congress' American Memory project, is entitled Golfers. It was taken by Harry M. Rhoades in Denver Colorado, c1940.