George W. Hopper Law Library
College of Law
Rosa Parks
This month's display features Rosa Parks, widely regarded as the "Mother of the Modern Civil Rights Movement." Most of the information presented comes from two excellent web sites, which are described below, under Resources.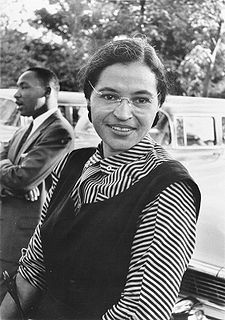 "One evening in early December 1955 I was sitting in the front seat of the colored section of a bus in Montgomery, Alabama. The white people were sitting in the white section. More white people got on. When that happened, we black people were supposed to give up our seats to the whites. But I didn't move. The white driver said, "Let me have those front seats." I didn't get up. I was tired of giving in to white people.
    "I'm going to have you arrested," the driver said.
    "You may do that," I answered.
    Two white policemen came. I asked one of them, "Why do you push us all around?"
    He answered, "I don't know, but the law is the law and you're under arrest.'"
Excerpted from: Rosa Parks: My Story by Rosa Parks
---
Resources
The National Archives has made available a previously published article about Rosa Parks that also includes images of documents relating to her arrest. 
http://www.archives.gov/education/lessons/rosa-parks/
 The web site Rosa Parks Facts.com has an article about Browder v. Gayle, the case that determined segregation on city buses was unconstitutional.
http://www.rosaparksfacts.com/browder-vs-gayle.php
---
 Past Displays