Seth Swanner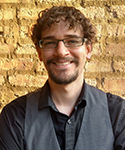 Biography
Seth Swanner teaches a variety of courses, including Composition, First-Year Seminars, and studies in advanced literature. As a researcher, Seth studies early modern British literature. In particular, he explores the intersection between ideas of nature and fringe political categories like tyranny, treason, and anarchy. Seventeenth-century Britain witnessed political and environmental upheavals that changed the way literature processed governance, nature, and the interfaces between them. This literature, Seth argues, can inform our own politically and ecologically combustible moment.
Education
Ph.D., Northwestern University
M.A., University of Alabama
B.A., Birmingham-Southern College
Recent and Upcoming Courses
College Composition and Rhetoric
First-Year Seminar: The Rise of the Antihero
Studies in Twentieth-Century Literature: Confederate Monuments and Union Memory
Publications
"The Beauty of Ho(me)liness: The Unhandsome Sacramentality of Almost-Shape Poems in George Herbert's The Temple." Studies in Philology (Summer 2018), pp. 554-79.
"'The devil that rules i'th'air': Determinisms of Wind, Star, and State in John Webster's The Duchess of Malfi." English Literary History (2019), pp. 865-93.
"How to Do Things with Birds: The Radical Politics of Nature's Speech-Acts in Macbeth." In Arizona Studies in the Middle Ages and the Renaissance (Turnhout: Brepols, 2020).