College of Business
MBA Program
1000 East University Avenue
Dept. 3275
Laramie, WY 82071
Phone: 307.766.2449
Email:
mba@uwyo.edu
MBA Course of Study
The on-campus program is an accelerated 16-month program comprised of 42 credit hours of coursework. The program is sequential and lock-step.
Pre-Term:
Students will be required to take a pre-term assessment to determine their proficiency in quantitatively-based subjects. Deficiencies in these subject areas will require completion of a short foundational course (approximately 20 hours of time required to complete each course). Addressing potential deficiencies prior to beginning the MBA core curriculum will ensure that all students are equipped for success in their subsequent studies.
Students will also participate in a one to two week teambuilding seminar prior to the start of their fall coursework
Fall 1:
Financial Accounting

Research Methods

Managerial Economics

Organizational Behavior and Human Resource Management

Business Law

Decision Making

Global Business

Professional Development I
Spring:
Financial Management

Marketing Management

Entrepreneurial Management

MBA Operations Management

MBA Managerial Accounting

Professional Development II
Summer:
Students will participate in Experiential Learning Projects administered from the UW campus. Students will have access to COB facilities to perform analysis and develop recommendations, although it is expected that the students will spend substantial amounts of time on site at the sponsoring clients' facilities.
Fall 2:
Sustainable Management Strategy (Capstone)

9 credit hours of graduate-level electives within or outside the College of Business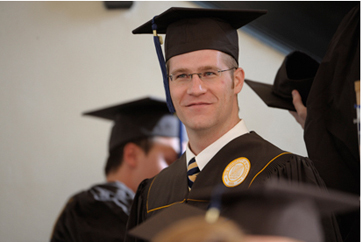 Peter Shumway, MBA  graduate
Share This Page: