January 2019
Wyoming Institute for Humanities Research Faculty fellows selected at UW
February 2019
Open Textbook Grant Recipients
March 2019
The Annual World Languages Day Competition
May 2019
Wyoming Institute for Humanities Research Announces Faculty Fellows at UW
May 2017
April 2017
March 2017
April 2016
Kim Sanchez is the recipient of the Rosemarie Martha Spitaleri Award as the University of Wyoming's outstanding graduating woman. Kim is a major in Russian and Anthropology, and as a student of Russian is a recipient of the Burman Scholarship and is a former participant in the Saratov Summer Study Abroad (2015).
UW Russian language instructor & PhD candidate in Literacy Education, Anna Shur, has article published in Vestnik: The Jourmal of Russian & Asian Studies.   The History of Russian Language Studies in the U.S.
March 2016
UW Student comes to aid of accident victim in Saratov, Russia.

 

Translation below:

On March 31, 2016, Kyle Wirth, a student of the Preparatory Department of SSU (Saratov State University) from the University of Wyoming, became witness to a hit-and-run on Zarubin Street, while returning from classes: a black sedan struck a person and abandoned the scene, leaving the victim lying in the road.  Shocked that no one stopped and approached the person, who was crying out in pain, Kyle helped the man summon police and ambulance, and then awaited the arrival of traffic safety inspection officers.  Kyle remarked about the kindness of the Russian policemen who, after learning that a non-native speaker was standing before them, spoke clearly, slowly and in simple phrases.

 

The conduct of a person in an extreme situation depends upon upbringing, life experience, and attitude towards other people.  The American student, being in a foreign country, displayed humanity and compassion for the victim, regardless of any language barriers

.
May 2016
March 2016
March 9, 2016 -- Local Students Claim First Place at World Languages Day: Junior high and high school students from throughout the state showcased their language talents during the annual World Languages Day. See full article

 

here

.

March 1, 2016 -- Approximately 350 junior high and high school students are expected to attend the fourth annual World Languages Day March 4-5 at the University of Wyoming. The annual event provides a venue for students to showcase their language talents in judged competitions. See full article

 

here

.
February 2016
"Every university needs to have a humanities focus. You can't just educate your students part-way — you need a well-rounded education, and humanities is a large piece of that." -- Dr. Joy Landeira,

 

quoted in Laramie Boomerang's article

.

MCL and Wyoming School-University Partnership host free ACTFL workshop on Integrating Skills and Modes for Curriculum Design on 20 February, 2016.

 

Register here

.
December 2015
November 2015
September 2015
MCL Emeritus Professor Walter G. Langlois endows Fellowship
August 2015
Professor Yan Zhang has created a unique opportunity for students at the University of Wyoming to connect to China. After learning Mandarin Chinese for three semesters, students are eligible to go on a summer study abroad.
This year, students work with a local charity organization called One Heart Charity.  "Not only did we buy and bring some books and sports equipment, they also helped the children from migrant families (poor rural children) put a short performance on stage in front of the public," said Zhang. The rewards came in the form of smiling faces and cheering children.
Then the Wyoming students celebrated the children's birthdays at a Confucius. "The staff at the One Heart Charity were impressed and appreciative," said Zhang, "and our UW group left feeling enthusiastic and more meaningfully connected to the lives of Xiamen locals." 
Another new project that engaged UW students with the local community involved paring them up with street vendors to help sell various different products at the night market.  Students helped with a tea ceremony, sold decorative fans and umbrellas, set up a stand to sell chocolate-covered bananas, and helped customers at a shop that sold women's clothing. "This partnership was appreciated by the vendors and in the eyes of the local Chinese promoted a very positive image of Americans' attitudes," said Zhang.
Service learning is a strategy that Zhang incorporates into her study abroad program. It's a teaching style that integrates community service with instruction and reflection. It results in stronger community ties and greater civic responsibility.
The Department of Modern and Classical Languages offers a Chinese minor program to UW students. There are currently 24 students seeking a Chinese minor, including the ASUW President, Brian Schueler.
Other languages offered on campus are classics, Latin, Hebrew, French, German, Japanese, Russian, and Spanish.
Pic 1: UW students teach immigrant children a dance. From front to back: Richard Bierman, Brendan Costello, Edward Ma
Pic 2: Chinese roommates and visiting students pose at Gulangyu Island. Front row:  Kyle Wirth, Kip DeCastro, Nathan Forest, Tyler Miller, Maiya Hritsick, Alexandra Sanchez, Edward Ma, Back row: Daniel Janiak, Brendan Costello, Richard Bierman, Drew Newman, Jared Egbert.
Pic 3: Visiting UW students celebrate a birthday party with immigrant children. Left to right: Kyle Wirth, Maiya Hritsick.
Student Home Towns:
Jared Egbert: Laramie, Wyo.
Edward Ma: Cheyenne, Wyo.
Drew Newman: Cheyenne, Wyo.
Tyler Miller: Cheyenne, Wyo.
Kyle Wirth: Casper, Wyo.
Kip DeCastro: Casper, Wyo.
Richard Bierman: Gillette, Wyo.
Brian Schueler: Buffalo, Wyo.
Nathan Forest: Centennial, Colo.
Maiya Hritsick: Ft. Collins, Colo.
Alexandra Sanchez: Valparaiso, Ind.
Daniel Janiak: Ukiah, Cal.
Brendan Costello: Montgomery, Tex
April 2015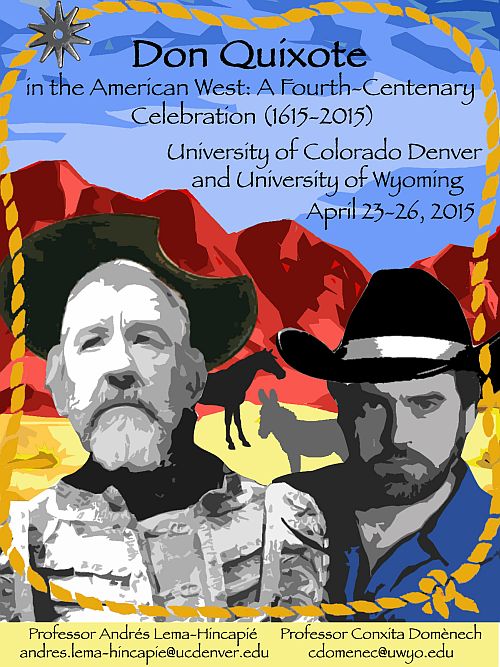 UW and University of Colorado Denver partner in conference "Don Quixote in the American West." Click for Conference Program.  Be sure to check the links to these conference presenters:
September 2014
November 2013
MCL Faculty members Kevin Larsen, Mark Person, and Jennifer Lavanchy are honored with UW Mortar Board's "Top Prof" Award
October 2013
May 2013
UW Professor Emeritus Lewis Bagby receives "Outstanding Former Faculty Award"