Assistant Professor
Spanish
Education

Ph.D. Spanish and Portuguese, University of New Mexico, Albuquerque,

M.A. Spanish, University of Wyoming, Laramie, Wyoming

B.A. Tourism Planification, Universidad Hispano Mexicana, Mexico City
Research Interests

Research areas include Latin American and Mexican literature and cultures; 20th and 21st Century representations of Mexico-U.S. Migration: identity, memory; feminist studies, globalization and femicides. She is also interested in visual art and cinema from the Borderlands.
Publications
"El espejismo del desierto: Migración femenina en la literatura mexicana."  Revista de Filología y Lingüística de Costa Rica. 35.2 (2009): pp. 139-150.
 
"Actos performativos de género durante el tránsito migratorio en De Nadie (2005) de Tin Dirdamal" (2005). Ístmica, Revista de estudios Centroamericanos y Caribeños. Universidad Nacional de Costa Rica, Submitted for Initial Review, 20 Dec., 2019.
Teaching
4190/5190 20th and 21st Century Span-American Texts, Contemporary Latin American Short Story

4190/5190 20th and 21st Century Span-American Texts, Narrative, Cinema, and Cultural Productions of the U.S.-Mexico Borderlands

5120 – Spanish-American Literature, Mexican Revolution Narrative, and Cinema

5120 – Spanish-American Literature, Contemporary Mexican Women Writers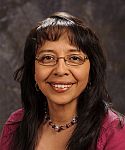 Sonia Rodriguez Hicks

Hoyt 209
soniahr@uwyo.edu