Sophomore Barrier Requirements
Department of Music
Department 3037
1000 E. University Avenue
Laramie, WY 82071
Phone: 307-766-5242
Fax: 307-766-5326
Email:
musicdpt@uwyo.edu
Department of Music
Main Office
Fine Arts 258
Laramie, WY

University of Wyoming students are invited to actively participate in performing and studying music from around the world.
Firmly based in the Department of Music, the ethnomusicology program emphasizes studies of music focused in anthropology and musicology, and critical thinking about music among people in many cultural settings. These offerings allow students to more fully benefit from the expertise and knowledge of many UW faculty members about music from many places.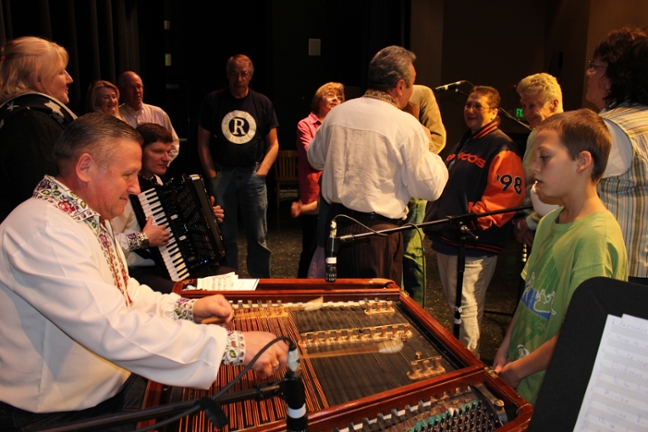 The Minor in Ethnomusicology is available for interested non-music majors. Students from throughout the university can complete the minor by participating in department of music courses and choosing from electives focused on music in various cultural settings.
Students pursuing the Bachelor of Arts in Music may choose the ethnomusicology emphasis, in order to focus their studies on music from around the world. This stringent new program will require students to develop their skills in music, language, writing, and cultural studies. The culmination of these studies will be a capstone project that requires research and writing about music from a specific cultural setting outside of the classical forms taught in most American music schools.
Music 3385, "World Music Ensemble," will be offered each semester to allow students to earn credit for participating in music making and study in the Wyoming Balinese gamelan, Peruvian panpipe ensemble, Irish traditional music sessions, and percussion ensemble. While these musical groups have flourished in Laramie for many years, students will now have an extra incentive and reward for their participation.
If you are interested in finding out more about ethnomusicology at the University of Wyoming, contact Professor Rod Garnett, rgarnett@uwyo.edu, or the Department of Music main office, musicdpt@uwyo.edu or 307-766-5242.
You are invited to visit Candra Wyoga: The Wyoming Gamelan on Facebook.