Leondra Lawson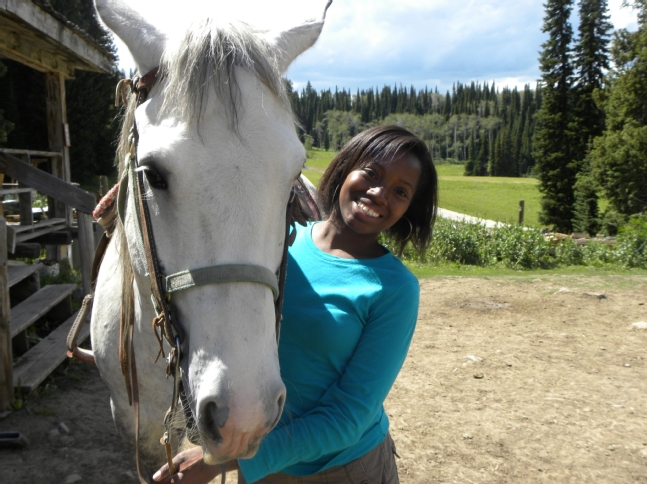 During the summer, I worked with Dr. Mark Mehn and focused on identifying by-products of cysteine/cysteine-like compounds such as l-cysteine methyl ester hydrochloride. This research is vital and relates to my research interests because cysteine levels decrease in tumor environments. It has been shown that decreased levels of cysteine reduces one's ability to defend against free-radicals. Because of this, we dissolved different compounds in solution to identify the by-products that may form from the introduction of oxygen molecules.
I really enjoyed my time in Wyoming. Upon arriving, Aisha and I were welcomed by very down-to-earth people with great hearts. This continued throughout the entire summer. While working in the chemistry department, I met great people who were more than willing to provide me with different equipment in their labs and their expert advice on the research project I was working on. Dr. Mehn is a wonderful and thorough advisor and was a pleasure to work with. His graduate students Phil and Suman were also very helpful.

 
Although I had many great experiences at the University of Wyoming, the experience that had the most effect on me was when Phil approached me in lab one day and talked to me about being successful in graduate school and research. He really stressed how hard work and the desire to know and learn all I can inside and outside the classroom played a major role in the classroom and in the lab. His words encouraged me and remain with me as I continue the pursuit of my masters degree. His wise words have been a blessing and I am forever grateful to not only him, but Dr. Mehn and the University of Wyoming family. Dr. Balaz and Dr. Varga were also an exceptional couple who ensured that Aisha and I were able to experience various events while there and transported us around frequently. Last but not least, I appreciate The Roths for their exceptional hospitality from the beginning to the end of our stay in Wyoming. It was truly an unforgettable summer that I would recommend to other students.