UW FWW School of Nursing
Visit: Health Sciences 351
Mail: Dept. 3065
1000 E. University Ave.
Laramie, WY 82071
Phone: (307) 766-4312
Fax: (307) 766-4294
Email:
mailto:uwnursing@uwyo.edu
Campus Visits to UW Nursing and UW Discovery Days
What happens at "Discovery Days" and how do you sign up?
Description:
From the UW Discovery Days site: "Discovery Days are FREE Saturday morning events designed to introduce visitors to the UW experience... During a typical Discovery Day event we hold a resource fair to introduce you to the organizations, programs, and resources available..."  The Discovery Days event also provides lunch and campus tours. At the resource fair you have the opportunity to visit with nursing faculty about the nursing program. Later that morning in the Health Sciences college session you hear a current nursing student speak about the program.

Calendar and registration links:
Scroll down this page for the School Visit Schedule. Discovery Days listings provide a link to the UW registration site.
UW Nursing Visit FAQ and School Visit Schedule
---
Q&A's and School Visit Schedule
Q: What are the days and times that I can tour the School of Nursing and meet with a school representative?

Answer:

Scroll down the page to our School Visit Schedule. Please let us know if you plan to come on any of the listed days (if you schedule your campus trip through UW Admissions, they will let us know you are coming). Read on through #2 and #3 below for contact information.

Q: How do I schedule a visit to the University of Wyoming campus and the Fay W. Whitney School of Nursing?

Answer: 

First, scroll down the page and check out the School Visit Schedule. Choose a date that will work with your calendar.

Secondly, contact UW Admissions' "Pre-college & student visit programs" as follows:
- Phone: 307-766-4075
- Email: visituw@uwyo.edu
- Web site: http://www.uwyo.edu/admissions/visit/index.html

Thirdly, in your contact with UW Admissions, mention the date from the School Visit Schedule that works with your calendar. UW Admissions will fit a campus tour around our scheduled time and will make sure you can take part in both campus and nursing tours. Admissions will contact us to let us know you are coming for our school visit.

Q: What happens if I can't come to one of the scheduled visit days?

Answer:

If you cannot manage to make any of the scheduled visit days, we can give you a packet that will give you vital information. In addition and if you would like, we can have nursing faculty call you to discuss the program with you and to answer your questions.
---
School Visit Schedule SPRING 2014 - remaining visits
April 11, 2014 (FRIDAY): 1-3 pm
NURSING VISIT DAY
Room 364 Health Sciences Center
Contact UW's "Pre-college & student visit programs" office to register:
307-766-4075 or visituw@uwyo.edu
---
Share This Page: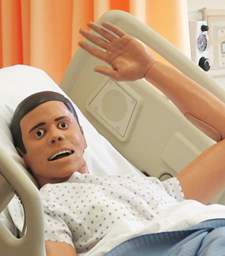 Check out the slide show tour of our facilities by clicking into the link below.