Cheyenne VA Medical Center:
2013 Community Partner of the Year
The University of Wyoming Fay W. Whitney School of Nursing (FWWSON) presented the 2013 Basic BSN program's "Community Partner of the Year" award to the Cheyenne VA Medical Center (VAMC) at the school's annual Nightingale Ceremony this fall. The Basic BSN program, a traditional on-campus bachelor of science in nursing program, has enjoyed a long-time partnership with the VAMC with students placed in multiple settings within the hospital. For several years students have shared positive comments about those clinical experiences, such as, "The staff nurses are very welcoming and very willing to teach us." or "I like that the nurses ask us questions."
VAMC Unit Manager, Kasey (Clabaugh) Mullins, UW BSN ('03), RN, [pictured below] says that there are many benefits to having nursing students on the unit. "From a manager's perspective, being a clinical partner with UW is a good way to recruit new BSN-prepared nurses," says Mullins. "Having students on the unit helps keep the nursing staff sharp and focused on keeping their skills current. Other benefits include students' tendency to question policies, procedures, and practice which makes for valuable workplace discussions." According to Kasey, having students present promotes staff development by motivating associate degree nurses to consider pursuing higher education. 
According to UW faculty Linda Williams, "Kasey appreciates what the students bring to the clinical setting and is very supportive and concerned that the students have an excellent experience at the VAMC, making sure that they are involved in a variety of learning opportunities." Kasey has also gathered feedback from the veterans and notes, "The veteran patients are receptive to having nursing students care for them and appreciate that the students give them individual attention and teach them about their health, illness and plan of care."
----------
Below: VAMC Unit Manager Kasey Mullins, RN, BSN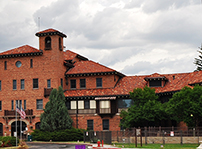 Cheyenne VA Medical Center is the Basic BSN Community Partner of the Year for 2013.