Sheridan County Public Health:
2013 Community Partner of the Year
The Fay W. Whitney School of Nursing RN/BSN Completion Program named Sheridan County Public Health for its educational partner for 2013. Sheridan County Public Health allows integral personnel to step forward in dynamic ways to partner with the FWWSON in educating online RN/BSN Completion Program students.
Melanie Kawulok, former nursing director at Sheridan County Public Health, demonstrated a commitment to participating in the education of UW students by serving as a mentor for Joan Connolly during Joan's capstone project. Together the two worked to formulate standards for regulating body art parlors in the county. "I was shocked to discover the person who cuts your hair has to be licensed," says Connolly, "but someone can inject ink into your body without any regulatory oversight!"
Ms. Kawulok joined Dean Mary Burman and UW nursing faculty Terri Wolff in presenting information about how the other Wyoming public health nurses could become involved with FWWSON RN/BSN students in their respective capstone projects at the 2013 Annual Spring Meeting of the Wyoming Public Health Nurse Managers in Cheyenne. Kawulok is also an adjunct faculty member for FWWSON and has been teaching online courses for the RN/BSN students for the past several semesters. Recently, Anna Atkinson, another of the public health nurses at Sheridan County Public Health, joined the FWWSON faculty as an adjunct. Both of these public health nurses utilize their current practice experience to enhance students' educational experiences. These types of partnerships are critical to providing a quality learning environment for the RN/BSN Completion students.
2013 RN/BSN Completion Program Community Partner Award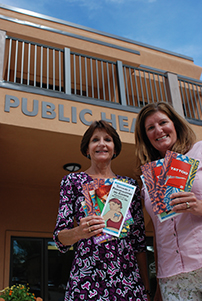 Sheridan County Public Health is the RN/BSN Completion Program Partner of the Year for 2013. Above, (l-r) Joan Connolly and Melanie Kawulok together drafted an ordinance to regulate body art salons for the health of their community.