DNP Program 2014 Community Partner of the Year:
Platte River Family Practice, LLC
Annually the DNP program presents a Community Partner Award to a clinical facility instrumental in providing crucial learning experiences for the DNP students. At the program's May 30 "Willow Ceremony," the 2014 award was presented to Platte River Family Practice, LLC, a nurse-owned and -managed clinic in Casper.
Since opening their doors in 2009, Platte River Family Practice has provided outstanding patient-centered primary care to Casper-area residents. In 2012, the Wyoming District Office of the U.S. Small Business Administration acknowledged the excellence of this clinical facility with the "Women in Business Champion of the Year" award. According to the UW DNP Program Coordinator Ann Marie Hart, Platte River Family Practice has gone above and beyond to provide individualized precepting experiences to family nurse practitioner students in both the former Master's and the current DNP programs at the University of Wyoming Fay W. Whitney School of Nursing. 

The nurse practitioners at Platte River Family Practice routinely serve as preceptors to the UW DNP students and take this responsibility seriously, notes Hart. "They begin by sitting down with each student to develop an individualized learning plan based upon the student's experience, strengths, weaknesses and goals. In addition to receiving an individually tailored precepting experience, students who are precepted at Platte River Family Practice also benefit from experiencing a nurse-managed organization and an electronic, patient-friendly health records system."

Casper area DNP student Temberly Long, BSN, RN, who recently completed a clinical rotation at Platte River Family Practice, shared these words: "Comprised of an extraordinary staff, Platte River Family Practice provides incomparable care to residents of rural Wyoming. Led by Amy Gruwell, MS, FNP-C and business partner Paula Coates, RN, the providers care for a wide variety of patients and disease processes. The three nurse practitioners on staff competently treat their patients medically, but also take pride in their ability to relate with the patients and maintain strong relationships. The staff eagerly accepts students and fosters exceptional learning experiences. With varying experience, backgrounds and views, the providers offer multidimensional instruction during each moment spent with students. The development of an individualized, yet equally adroit approach to healthcare is encouraged and cultivated. The combination of exceptional patient care, community involvement and student support makes Platte River Family Practice deserving of the University of Wyoming 2014 Community Partners Award."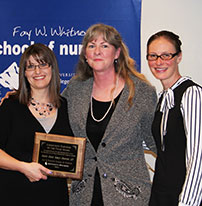 DNP program clinical coordinator Candace Stidolph (right) presents the 2014 DNP Program Community Partner of the Year award to Platte River Family Practice owners, Amy Gruwell (left) and Paula Coates (center).