Pathways Mental Health Professionals
2016 DNP Program Community Partner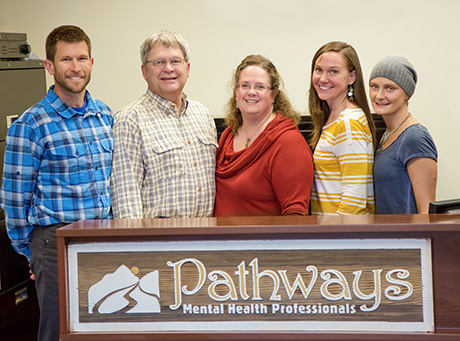 Pathways' clinic owners and personnel
Pictured: (l-r): James Kuster (UW DNP Student), Glen and Kay Lynn Hammer (clinic owners), Nancy McGee and J'Laine Proctor (UW Nursing PMHNP faculty.
----------
The University of Wyoming Fay W. Whitney School of Nursing (UW FWWSON) named Pathways Mental Health Professionals of Laramie Community Partner of the Year 2016 for their work with the Psychiatric Mental Health Doctor of Nursing Practice (DNP) Program students at the University of Wyoming Fay W. Whitney School of Nursing. Pathways will receive their award at the annual "Willow Ceremony" in November. The ceremony encourages DNP students as they continue to prepare for their chosen career.
"The DNP program was excited to partner with Pathways for the first clinical rotation in the school's new Psychiatric Mental Health Nurse Practitioner (PMHNP) program option," says DNP Program Director Ann Marie Hart. "Pathways opened their doors and welcomed the first PMHNP student with an excellent clinical experience." Student feedback highlighted the friendly atmosphere at Pathways and the willingness for the Pathways clinicians to assure variety and depth of clinic experience. Pathways demonstrated the ideal inter-disciplinary team approach to treating complex mental health issues. This partnership exceeded the expectations of the student and DNP faculty.
"We hope that this is the first of many students who will benefit from the partnership with Pathways in Laramie," says Hart.
About Pathways
Pathways is a locally owned and operated mental health group serving individuals, families, couples, adolescents, and children in Laramie and the surrounding communities since 2004. As a group of mental health professionals, Pathways' reputation speaks for itself. In the last twelve years Pathways has not once advertised for services, yet the clientele of nearly twenty mental health professionals has always neared capacity. Pathways is known for high quality care and commitment to ethical practice.
About the UW Doctor of Nursing Practice Program

The Doctor of Nursing Practice (DNP) degree is the new standard for advanced practice nursing education. The UW FWWSON has two clinical options: family nurse practitioner (FNP) and psychiatric mental health nurse practitioner (PMHNP). For existing master's- or DNP-prepared FNPs or PMHNPs, the school offers a second certificate option.
----------------------------
Posted 9/7/2016