Laramie County Community College (LCCC)
2016 BSN Completion Community Partner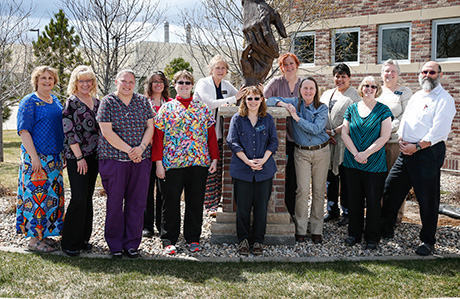 LCCC Nursing Faculty & Staff

Pictured: (l-r): Jennifer Anderson, Karen Clark-Bond, Marcy Holford, Jeni Wolfe, Jean Zlomke, Marlene Shaw, Christina Warren, Molly McNeely, Robin Duncan, Paula Belknap, Dawn Williams, Marie Koenings and Geoffrey Green.
----------
The University of Wyoming Fay W. Whitney School of Nursing (UW FWWSON) RN-BSN Completion Program named Laramie County Community College (LCCC) Community Partner of the Year 2016.
In the award letter sent to LCCC's nursing director, Jennifer Anderson, Dean Mary Burman wrote, "We have greatly appreciated the fact that you and your nursing faculty have been so supportive of your students' efforts in attaining their BSN in as timely and seamless a manner possible. Your encouragement and counsel to your students to select appropriate classes needed for the BSN have been crucial for their success. As a result, there have been 145 graduates of your LCCC ADN program who attained their BSN from UW between spring of 2010 and fall of 2015."
The letter continues, "Looking to the future, you and many of your LCCC nursing faculty participated in the development of the ReNEW curriculum, which is now in effect and transforming nursing in Wyoming. This is another example of the partnership between LCCC and UW, where we have been working together to encourage continued education among Wyoming's nurses and thus ensuring safe, quality, patient-centered care in our state."
"Additionally," continues Burman, "the nursing students at LCCC benefit greatly from the articulation agreement between LCCC and UW, which allows for co-enrollment and speedier progression toward their degrees and ultimate careers. Therefore, not only do we thank you for working with us, but the STUDENTS thank you for keeping their welfare and interests at the forefront of all your decisions."
About the RN-BSN Completion Program
The RN-BSN Completion Program is delivered nationwide as an online RN-BSN Completion Program with no on-campus time required.
----------
Posted 10/12/2016