Goshen County School District #1
2018 BRAND Community Partner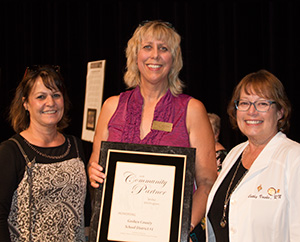 Pictured: Representing Goshen County School District #1 is (left) Goshen County Superintendent Jean Chrostowski and (right) School Nurse Cathy Vasko. The award was presented at the school's 2018 "Nightingale Ceremony" by UW Nursing Preprofessional Programs Director Kimberly Raska-Miller.
----------
The University of Wyoming Fay W. Whitney School of Nursing (FWWSON) named Goshen County School District #1 the Community Partner of the Year 2018 for their work with the "BRAND" accelerated nursing students. The award was presented at the school's fall "Nightingale Ceremony" on August 29, 2018 in the Arts & Sciences Auditorium on the UW campus by Preprofessional Programs Director Kimberly Raska-Miller.
The Nightingale Ceremony welcomes Basic BSN Program junior students and accelerated BRAND Program students into the profession of nursing. By presenting the Community Partner awards at the ceremony, new students get a glimpse of the significant role community agencies play in their upcoming clinical education.
About Goshen County School District #1
Goshen County School District #1 has been involved with BRAND students for the past several years. The FWWSON is grateful for the clinical experiences provided for UW students. All staff within the school system have consistently supported UW students in their pediatric growth and development clinical rotation. Staff across the facility encourage and ask students to be involved with situations they might not see anywhere else. Students are exposed to the many aspects of school nursing, including anything from recess accidents to illness to kids with chronic medical conditions such as diabetes, asthma, and seizures.
Cathy Vasko, the school nurse, has graciously dedicated her time and shared her expertise with each BRAND student throughout the rotation. She encourages each child to speak the truth, to be honest with themselves as they express their needs, and to be independent in caring for themselves. Vasko is not only a great role model and advocate for children, but for new nurses. Her love for pediatric nursing is contagious and provides students with a refreshing respect for the challenges that face our youth, and how we--as nurses--can make a positive impact. UW greatly appreciates the efforts of everyone involved in the Goshen County School System who assist in the education of nursing students.
About BRAND 
The BRAND program is for students with a previous non-nursing baccalaureate degree who now desire to become a registered nurse. BRAND is not only an accelerated program, but also a distance program. The program delivery allows Wyoming's rural and isolated hospitals and agencies to "grow their own" BSN-prepared nurses without relocating the student (or the families of the student) to Laramie. BRAND's 15-month 'summer to summer' program includes online learning, hybrid courses and hands-on clinical experiences. The intensive curriculum focuses on didactic and clinical nursing education. BRAND requires a motivated, independent and self-disciplined learner.
----------
Posted 9/14/2018