2012 Basic BSN Preceptor Recognition
University of Wyoming faculty and students work with "preceptors" - nurses who mentor our students in a variety of clinical settings. In 2010 our school introduced a new award to recognize preceptors, especially those who go above and beyond. Students nominate preceptors for this award from each of our programs.
Louie Rael
The preceptor chosen from the Basic BSN program is Louie Rael, who is employed by Parker-Adventist Hospital located in Parker, Colorado. Rael works in the Emergency Department. The University of Wyoming School of Nursing student who wrote the winning nomination said,
""I would like to recognize Louie for not only setting an example of how a nurse should be, but for also believing in me and encouraging me more than anyone else has throughout nursing school. As a preceptor, he supervised my work, but did so in a way that wasn't constantly looking over my shoulder or directing what I should do. Louie allowed me the opportunity to think critically, carry out nursing duties, and communicate with other staff independently. I was able to communicate effectively with patients, families, nurses, physicians, laboratory, etc. with his encouragement. I gained confidence along with knowledge from new experiences. He took the time to teach me things and review concepts at the bedside with patients so we could provide patient education at the same time that I was learning too. He stood up for and advocated for me on multiple occasions; I am very grateful for the clinical experience that I had with him…"
– Basic BSN student 2012
The School of Nursing presented the award to Rael at the annual Nightingale Ceremony on the University of Wyoming Campus in the fall.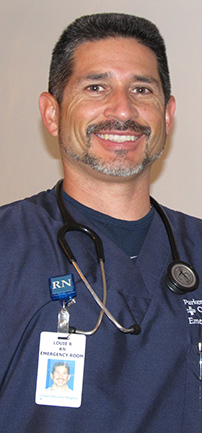 2012 Basic BSN Preceptor of the Year Award Recipient