2014 NP Program: Advanced Practice Nursing Award
Julie Hummer-Bellmyer, MSN, FNP-BC, BSN, CNOR, RNFA
Julie Hummer-Bellmyer has been a nurse for almost 30 years. She earned her BSN from the University of Northern Colorado in 1985 and her Master of Science with a Family Nurse Practitioner (FNP) concentration from Clarkson College in Omaha, Nebraska, in 2001. 
As an FNP, Hummer-Bellmyer has worked in family practice, orthopedic and surgical settings in Colorado and Wyoming. She has been employed at the Cheyenne Veteran's Association Medical Center (VAMC) since 2007, where she now works with their surgical service line in both the operating room and orthopedic clinic. 
In 2012, a year before the UW DNP program began, Hummer-Bellmyer contacted faculty, volunteering to teach orthopedic skills to students—an unusual offering from a non-UW graduate and busy professional. So for the past two years, she and her FNP colleague at the Cheyenne VAMC, Denise Kurtis, have delivered a hands-on orthopedic workshop during first-year students' intensive week of advanced health assessment. Hummer-Bellmyer and Kurtis spend significant time preparing for and conducting the workshop in an organized, informative manner conducive to encouraging questions from students. In addition, Hummer-Bellmyer enjoys precepting DNP students, welcoming them to come learn with her at the VAMC.
Julie Hummer-Bellmyer, 2014 APN Awardee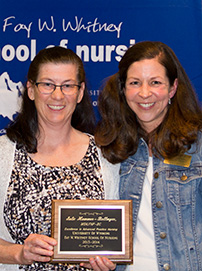 Julie Hummer-Bellmyer (l) receives 2014 award from DNP Program Coordinator Ann Marie Hart.