2013 Distinguished Alumna
Karleen B. (Christian) Goerke
RN, MSN, NEA-BC
(BSN, '86)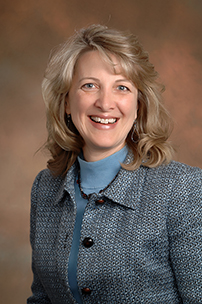 Karleen Goerke (formerly Karleen Christian from Glenrock, WY) has been named the 2013 Distinguished Alumna for the Fay W. Whitney School of Nursing at the University of Wyoming. Goerke will be honored for her outstanding contributions to the nursing profession through her excellence in clinical practice, education, and administration at the school's convocation ceremony on May 11, 2013 at 1:30 p.m. in the Fine Arts Center Concert Hall. Goerke will also be keynote speaker for the event.
Goerke's impressive career...
...has taken place largely within the employ of one institution: Swedish Medical Center (SMC) in Englewood, Colorado. Her loyalty to her employer, passion for her work, and nursing excellence were instrumental in Karleen's rise from the starting position as operating room staff nurse in 1990 to her current position of Chief Nursing Officer (Vice President of Nursing) - a position she has held for ten years.  During her tenure at SMC she also served in such positions as Team Leader of Neuro-otology and Otolaryngology, Oral Surgery and Plastic Surgery; Clinical Educator/Clinical Specialist for Surgical Services; Director of Inpatient Surgical Services; Director or Surgical Services; and Associate Chief Nursing Officer.
As a staff nurse, she distinguished herself with top quality care, attested to by the Chief of Neurosurgery Service for the Department of the Army when one of their surgeons was diagnosed with a brain tumor. The chief requested assistance from a doctor at Swedish Medical Center, who in turn brought Ms. Goerke to assist. In his words, "...the surgical procedure...was quite intricate, delicate, and required the full attention of all concerned in the operating room. Ms. Goerke demonstrated tremendous professional knowledge and sound judgment, initiative, enthusiasm, knowledge of her specialty, and was an inspiring example to our operating team. She was fully devoted to this procedure and contributed significantly to the efficient completion of the surgical procedure..." This event took place only one year after starting as a staff nurse at SMC.
Karleen was promoted to Neuro Otology Team leader within six months of her initial employment at SMC. The OR Manager at that time said of Goerke: "[The position of Team leader] was a very difficult undertaking because of the conflicts with this new service and lack of experienced people. Her strong leadership skills were demonstrated when she very successfully trained and developed a team of nurses and technicians for this service... even more outstanding is that Kari had no experience with this specialty but was able to learn it, develop a rapport of trust and confidence with the surgeons, recruit and teach new members of the team in less than a year's time. This was done in conjunction with developing protocol, providing operational supplies, and obtaining capitol equipment."  The OR Manager continued, "Kari's commitment to quality patient care was demonstrated when she had the Neuro Otology team of nurses learn sign language. The majority of patients that require the Neuro Otology services are partially or totally deaf. In order to communicate more effectively the entire team learned sign language..."
Goerke moved out ot the Neuro Otology Team Leader position and became the Clinical Specialist for Surgical Services. This position required a master's degree, so she committed to complete that degree with the Winston Howard Scholarship award from the SMC. The Director of Ambulatory Surgery at that time was astounded with Goerke's work as Clinical Specialist. "...I saw the competencies that Kari has written... and am REALLY impressed!!!  [She] has done the best job I have seen ...anywhere..."
During her role as Director of the Inpatient Surgical Services, Goerke led the expansion and remodel of the OR, helping to grow volume and better yet enabling SMC to earn the designation as "Neuroscience Center of Excellence."
The most challenging day
But the most challenging day came on April 20, 1999 when Kari was involved in one of the most horrific days in Colorado history, "Columbine". She was instrumental in making sure the four students who were sent to SMC had the best care available. All four survived. Goerke struggled with that event in her mind for nearly 18 months before taking a decisive move for her own therapy: She put a presentation together and spoke across the country about Columbine. She shared mainly about the OR and ER trauma procedures, but also about the healing and after-care that the staff and doctors needed. She brought in a "Psych Trauma Team" to encourage talk about feelings and issues surrounding this event. She last spoke about Columbine publicly on the 10th anniversary, covered by the Denver Post on March 21, 2009.
As Chief Nursing Officer, Goerke was instrumental in leading SMC to a Level 1 Trauma designation in 2003 and to the first Comprehensive Stroke Center in Colorado in 2004.
Among her key accomplishments:
Expansion construction project for medical-surgical, specialty units (neuro, spine, ortho) neonatal intensive care unit, operating room suites

Creation of Pediatric Intensive Care Unit

Establishing professional nurse practice council, unit based councils, nursing peer review panel, charge nurse group

Disease-specific Joint Commission certifications in Comprehensive Stroke, Congestive Heart Failure, Acute Myocardial Infarction, Coronary Artery Bypass Grafts, Pancreatic Cancer Lung Cancer

Centers of Excellence for bariatric, stroke, neurosurgery, interventional radiology, cardiovascular services, high risk obstetrics, level I trauma center, oncology

Participation on Chief Nursing Officer Council for Hospital Corporation of America

Mentor for CNO Development Program for Hospital Corporation of America

Reduction of contract labor expenses

Increase in nurse to patient ratios

Initiation of nursing research committee and evidence-based practice council

Current research on models of care, primary nursing

Improvement in ED and OR efficiencies

Nurse residency program

Nurse mentorship program, staff and leadership models

Throughput improvements for hospital growth
The Fay W. Whitney School of Nursing is proud to recognize such an outstanding nurse, administrator, and leader.
----------
Page updated 2/22/2017