2014 Distinguished Alumna
Marlene Ethier
MS, RN, CNE
(MS, '93)
----------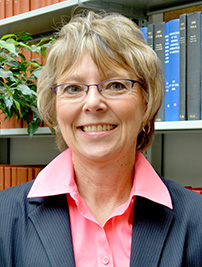 Marlene Ethier is the 2014 Distinguished Alumna for the Fay W. Whitney School of Nursing at the University of Wyoming. The school plans to honor Ethier at the school's convocation ceremony this spring for her outstanding contributions to the nursing profession through excellence in education and administration. Ethier will also be keynote speaker for the event scheduled as follows:
Fay W. Whitney School of Nursing Convocation
Friday, May 9, 2014
12:30 p.m.
Arts & Sciences Auditorium
University of Wyoming Campus
Marlene Ethier, a nursing leader in Wyoming for over 25 years, joined the faculty of Western Wyoming Community College (WWCC) as a nursing instructor in 1989 and continued on to direct that program from 1999-2013. According to one of her nominators, Ethier is "a master of curriculum development, with vision and tenacity to deliver education that follows sound education theory." This nominator noted that Ethier brought a highly successful, innovative, student-centered curriculum to nursing education in 2002.
Ethier's curriculum, centered on problem-based learning, has been used to prepare competent beginning nurses in southwest Wyoming for over a decade--to the satisfaction of the students, who pass their national licensing exam (the "NCLEX") consistently higher than the national average; and to the satisfaction of resulting employers, who hire the new graduates, according to the nominator. The success of her curriculum brought forth invitations to present on "Problem Based Learning" at the Nurse Educators of the Rockies International Conference, at the Wyoming Nurses Association Education Summit and at the Wyoming Nursing Leadership Institute.
During Ethier's tenure as director, the nursing program grew from serving 48 students to serving 80 students in three locations. Under her leadership, WWCC also began a successful distance program utilizing a synchronous web-based program to deliver nursing education to all corners of the service area, opening up nursing education for those who may not otherwise have been able to seek it.
Another nominator notes, "Education beyond mere licensure is a need for us and for our clients. Ethier has worked to address this need in tangible ways through her involvement in the ReNEW efforts in Wyoming [ReNEW: Revolutionizing Nursing Education in Wyoming]. Furthermore, she serves always as a champion of continued education for countless students and practitioners." Ethier is serving on the curriculum committee for ReNEW, instrumental in moving a state-wide curriculum forward in Wyoming in order to smooth students' transition to higher education.
Ethier's commitment to nursing education in Wyoming and beyond shows through her service to state and national nursing organizations, such as the following: steering committee for ReNEW; chair of Nurse Educators of Wyoming; ambassador to the National League for Nursing; president and treasurer of District #6 Nurses Association; NLNAC program evaluator; and board member for the University of Wyoming School of Nursing Advisory Board, the Wyoming Center for Nursing and Health Care Partnerships Advisory Board, and for the Wyoming Nurses Association.
----------
page updated: 2/22/2017