Bethany Parker (BSN '07)
UWAANC Spotlight
__________
Notice:
Quarterly, the University of Wyoming Alumni Association Nursing Chapter (UWAANC)
will be spotlighting two alumni. Read on for the first in this new series!
__________
Quick Career Overview
Bethany Parker graduated in 2007 from the RN-BSN Completion Program through our University of Wyoming School of Nursing. In 2011 she graduated from the Masters of Science in Nurse Anesthesia program at Westminster College in Salt Lake City, Utah. Parker is currently practicing as a Certified Registered Nurse Anesthetist at Memorial Hospital of Gulfport in Gulfport, Mississippi. She also serves as a Captain in the United States Army Reserve Nurse Corps. Parker recently became the Commander of the 946th Forward Surgical Team in Mobile, Alabama.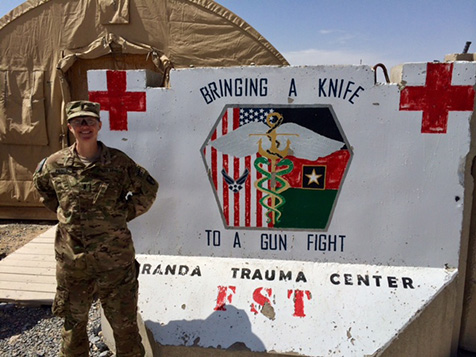 "What I love about nursing,"
...says Parker, "is the frequent opportunity to meet many new people and give them excellent care--whether it's delivering a safe and effective anesthetic, or the ability to simply listen and deliver reassuring words."

Favorite part of nursing career
When asked what her favorite part of her nursing career has been, she replied, "Hands down, my favorite part of my nursing career has been serving in the Army Reserve. It has been one of the most difficult challenges. I truly believe we make a difference, and being part of less than 1% of Americans who serve in the Armed Forces is an honor."

How has the nursing profession influenced her life? 
"I believe that nursing has influenced my life the most via the development of a tremendous sense of empathy towards others. I have seen people of all walks of life at their highest highs as well as their lowest lows. I've witnessed the beauty of life and the sorrow of loss. I've developed valuable relationships with others. I have a deep respect for life in all forms."
UWAANC
We asked for Parker's opinion as to where she would like to see the UWAANC go, and what she hopes to see the chapter accomplishing. Here's her wrap-up: "I think the UWAANC is doing a great job of keeping alumni informed and up to speed on the present state of UW School of Nursing, as well as the accomplishments of its alumni. I look forward to seeing what's next."
Preparing for a Nurse Anesthetist Career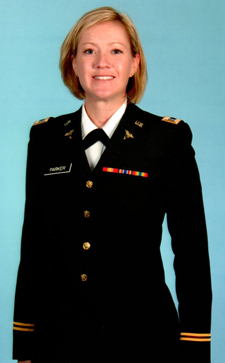 For those nursing students out there planning for their careers, we had contacted Parker back in 2012 asking for some info on the career of a Nurse Anesthetist:
Preparation: "Getting a BSN from UW was an important and necessary step in my nursing career. I also worked as an ICU and flight nurse to gain valuable experience in order to qualify for admittance to anesthesia school."

What do you like most about this career? "Being a critical thinker is key, and I love giving excellent and safe care. Being an advanced practice nurse is an amazing job--it is well worth the effort."

What are the biggest challenges? "Keeping in check emotionally. Also staying current on ever-evolving practice. I like being able to function quickly and effectively in a high-stress environment."

What advice would you have for a student interested in this field? "Work hard and be passionate about nursing. Always advocate for your profession."
----------
Story posted 4/4/2017