Nursing Alumni Spotlight:
Jennifer R. Castaldo, MS, RN (BSN '97)
"I absolutely LOVE my career. I moved to California right after I graduated, and I have to tell you, UW School of Nursing prepared me so incredibly well. I hit the ground running and had gained (and retained!) so much knowledge from the UW program that I excelled quite dramatically," says Jennifer Castaldo today - 15 years after graduation. 
And excel she did. Within three years from her 1997 graduation, she rose to department administrator in the Labor & Delivery/Family Centered Care center at Kaiser Permanente in Panorama City, California. The next year she took on department administrator for the General Surgery/Urology/Vascular/Pain Clinic at the same center. And continuing the momentum, the next year she was assigned Regional Manager, Strategic Workforce Planning, Patient Care Services at Kaiser Permanente in Pasadena, California.
The next step in the ladder came the following year, when she accepted the job of Director of Maternal Child Health Services at Valley Presbyterian Hospital in Van Nuys, California. Four years later she was promoted to Assistant Chief Nursing Officer. She was now a member of the Executive Team, having direct oversight of all inpatient services including Acute Care Services, Critical Care, Women's Services and Children's Services, the Nursing Office, Nursing Administration, and various outpatient clinics. During this time she was presented with the "Ellen R. Silverman Award (PAC/LAC - California) for Nursing Leadership. She then stepped into an interim position of Vice President Chief Nursing Officer while Valley Presbyterian recruited for a permanent CNO.
In June 2011, Castaldo was appointed Vice President of Service Excellence by Valley Presbyterian Hospital. Following is the web news spot sent out by Valley Presbyterian:
Ms. Castaldo brings over 10 years of nursing leadership experience to VPH, where for the past year she served as Assistant Chief Nursing Officer. In this role, Ms. Castaldo was responsible for her operations of the critical care areas, acute care services, women's and children's services, Nurse Practitioners, and the nursing office. Prior to her role as Assistant Chief Nursing Officer, she served as Director of Maternal Child Health Services for four years for VPH.
Prior to joining VPH, Ms. Castaldo held several nursing leadership positions with Kaiser Permanente, such as Lead Administrator for Labor & Delivery and Family Centered Care, and Director of Strategic Workforce Planning under Patient Care Services for eleven Southern California Kaiser Hospitals.
In her role as Vice President of Service Excellence, Ms. Castaldo leads the way to continuing our high standard of customer satisfaction. She manages all of the changes to create a culture in which VPH can exceed our patients' expectations. Ms. Castaldo is responsible for overseeing the improvement of the delivery of care and services for our patients.
Ms. Castaldo received her Bachelor of Science degree in Nursing from University of Wyoming and her Master of Science degree in Health Care Administration from Bellevue University, Bellevue, Nebraska.
Congratulations, Jennifer Castaldo!
Jennifer R. Castaldo, MS, RN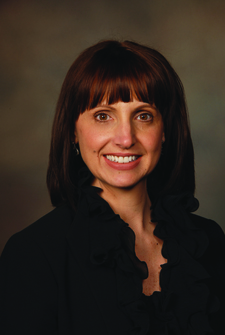 Vice President of Service Excellence at Valley Presbyterian Hospital, Van Nuys, California