Survey
Spring Nursing Convocation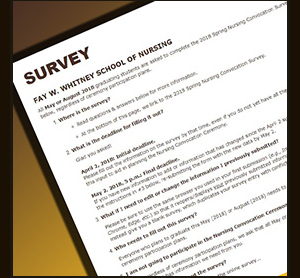 All May or August graduating students are expected to complete the spring Nursing Convocation Survey linked below, regardless of ceremony participation plans. All December graduates wishing to participate in the Nursing Convocation Ceremony in the spring following their fall graduation are also expected to complete the survey.
Where is the survey?

Read questions & answers below for more information.

At the bottom of this page, we link to the 2022 Spring Nursing Convocation Survey.

What is the deadline for filling it out?

Glad you asked!

April 10, 2022: Deadline
Please fill out the information on the survey by that time, even if you do not yet have all the answers. We need this input to aid in planning the Nursing Convocation Ceremony.

May 1, 2022, 5 p.m.: Final changes
If plans change from original submission, please complete and submit a new survey right away, but preferably no later than this date to better assist us with ceremony planning.

How will the survey information be used?

From the information submitted in the online survey...

The School of Nursing will use the information to plan the Nursing Convocation Ceremony so that we know who is attending in order to accommodate their presence.

The School of Nursing will use the information to generate a Convocation Reader Card. Students planning to attend will pick up their card prior to the ceremony (as noted on Nursing Convocation: Ceremony Detail & Expectations page). Faculty read the card for each graduating student as they are on stage during the presentation of graduates during the ceremony. Photographers will have card copies as well for correct spelling of your name and contact information for sending individual pictures. For those NOT participating, we would love to know about your plans for after graduation as well. 
***************
Click on this link to access the 2020 Spring Nursing Convocation Survey
***************
Questions?
If you still have questions after checking out the links on this page:
Contact Debbie Shoefelt
307-766-4292
shoefelt@uwyo.edu
-----------------------
Return to Spring Graduation Page
---
Updated: 03/22/2022