UW School of Nursing Alumnus Capt. Samuel Millar works with New Zealand Air Force Medical Experts
Captain Samuel Millar
RN, BSN (BSN '02)
2009 Distinguished Alumnus
Photo Caption: 5/8/2012 post on U.S. Air Force official web site: "Capt. Samuel Millar (far right), Pacific Air Forces, chief, Aeromedical Evacuation Standards/Evaluations and Programs, and flight nurse, shows Royal New Zealand Air Force aeromedics the U.S. Air Force's aeromedical evacuation inflight kits to discuss the Air Force's packaging and fly-away capability while on board a U.S. C-17 Globemaster III at Phenuapai Air Base, New Zealand, in April 2012. The U.S. and Royal New Zealand Air Force met during a subject matter exchange conference that allowed both Air Forces to discuss how each country conducts aeromedical operations to ensure future engagements, either real world or training, are as effective as possible. This meeting was conducted because a seamless response does not happen automatically; it is the result of exchanges and training events that increase operations awareness between counterparts. (U.S. Air Force photo/Capt. Rebecca Heyse)"
In the 5/8/2012 USAF publicity release [see link to full article in our right side bar beneath Capt. Millar's photo], Capt. Heyse from Pacific Air Forces Public Affairs noted, "When disaster strikes in the Pacific - whether natural or man-made, the U.S. relies heavily on its partners throughout the region to help respond, save lives and provide comfort to those requiring assistance. Leading the efforts are specially-trained international aeromedical personnel charged with caring for and transporting the most fragile to higher level of care facilities." One of those "specially-trained international aeromedical personnel" is the UW School of Nursing's 2009 Distinguished Alumni, Samuel Millar.
Millar's confidence, perseverance, determination and ability to keep a cool head in tense situations as a flight nurse has been distinguishing him in military nursing. In 2008 he was awarded the Air Force Achievement Medal for responding to an inflight emergency on Air Canada enroute from Tokyo to Toronto, where his quick action, calm demeanor, and direction of a hastily put-together team of two flight attendants and a retired general practitioner brought emergency aid and stabilization to a Canadian water polo Olympian on his return trip from competing in the Beijing Olympic Games. He also was awarded the Aerial Achievement Medal for providing inflight care to 15+ urgent/priority patients.
In "Operation Pacific Angel" in Bangkok, Thailand, he created and implemented joint US Air Force/Royal Thai Air Force "Aeromedical Evacuation Subject Matter Expert Exchange" curriculum to further understanding of aeromedical evacuation operations/procedures between Thailand and the United States as they hope to prepare for collaboration over such catastrophic events as tsunamis and cyclones in humanitarian assistance missions. In December 2008 and January 2009 "Operation Deep Freeze" at McMurdo Station, Antarctica, Millar provided oversight of aeromedical evacuation operations/procedures for the Antarctic continent during which he gave inflight care to urgent aeromedical evacuation patients from Antarctica to Christchurch, New Zealand. In March 2011, Millar coordinated Aeromedical Evacuation (AE) crews in support of the Japanese earthquake ensuring they maintained an AE patient movement airbridge between Japan and the US mainland.
Millar's expertise brought him a seat on a panel of judges for a military aeromedical evacuation competition comprised of 10 US Air Force and international aeromedical evacuation teams which involved aircraft configuration and an inflight medical emergency scenario. And as recently as September 2011, Millar participated on a panel to retool the way the Flight Nurse and Flight Tech school would be taught. He said, "This will reshape and improve the way our aeromedical evacuation crews take care of patients and should be implemented by July 2012."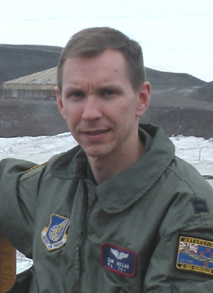 Capt. Millar manages aeromedical evacuation for the Pacific theater in the US Air Force.