Fay W. Whitney School of Nursing
College of Health Sciences
Speed Mentoring 2012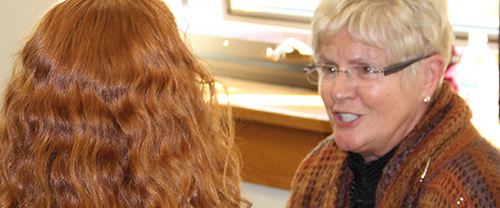 Pictured: Maxine Chisholm (right)
discusses Geriatric nursing with current nursing students
at the "Speed Mentoring 2012" UW School of Nursing event.

---
First Ever "Speed Mentoring" Event
On Friday, October 12, 2012 the University of Wyoming Fay W. Whitney School of Nursing held the first-ever "Speed Mentoring" event on the University of Wyoming campus. Eleven alumni spanning many different nursing careers were situated in eleven separate "pods". Students rotated through the pods two to three at a time and had eight minutes per visit to hear about each particular nursing career and to have an opportunity to ask questions. One student said as she left the event, "This was better than a career fair!  The information was so much more in depth!" Senior student Darcey Cowardin took the time to email after the event: "I thought it was an amazing opportunity to delve into a wealth of knowledge and experience! I also had several 'ah-ha' moments about my future career during the sessions. I hope you will continue this event next year as I think it's an awesome experience!"
Many Nursing Careers Represented
Alumni who graduated as recently as 2011 and as long ago as 1970 enjoyed talking about their careers from pediatrics to geriatrics and long-term nursing, from public health nursing to travel nursing, from labor & delivery and midwifery to hospice. Other popular nursing specialties such as psych nursing, emergency room nursing, and perioperative and first assist nursing found representation in qualified alumni. The excitement about this mentoring event seemed to be equally shared by the students and alumni alike. 
Check out the individual alumni careers by scrolling down and clicking on the heading for each.
ER Nursing: Aaron Wright [BSN '08]
"I was drawn to the ER because I liked the fast-paced atmosphere of the Emergency Department... [but] the thing I like most about working in the ED is the chance to learn so much. Rarely do I go through an entire shift where I don't see something new or have the doctor teach me something new about medicine." [Read more by clicking on title.]
First Assist Nursing: Sean Ennist [BSN '03]
As an RN First Assist (RNFA), "I help with positioning, visualization, hemostasis, performing the surgery as needed by the surgeon, closing different layers of tissue, applying dressings and splints if needed. The doctor often leaves during the last couple of layers of tissue, leaving the assistant in the OR. At this point, I become the leader of the OR, collaborating with anesthesia, other nurses, and the surgical technicians to complete the procedure." [Read more by clicking on title.] Pictured is Ennist with his wife, Debbie, also an alumna of the UWYO School of Nursing.
Geriatrics: Maxine Chisholm [BSN '80; MS FNP '82]
"The opportunity to do research after I graduated with my master's degree drew me to this career. I thought I would be at the nursing home for six months. ...I was there for 10 years and loved it. You never know where life takes you." [Read more by clicking on title.]
Hospice Nursing: Taylor Burke [BSN '11]
"Hospice nurses often get the appreciation that ALL nurses deserve. You are welcomed into patients' homes as though you are an angel there to guide them through the most difficult days... I love that in Hospice, care is very patient driven. Every decision is made based on the comfort and wishes of the patient first and foremost." [Read more by clicking on title.]
Labor & Delivery / Midwifery: Esther Gilman-Kehrer [BSN '86; MS FNP '98]
"I worked in labor and delivery for 16 years and became very interested in maternal child health in a more global way. I could see that being with women and families during the process of birth could be very different in terms of labor support and relationships. Not being involved in their care during the prenatal period left me with a sense that I could help families become more informed about choices and empower them to be more involved in their care." [Read more by clicking on title.]
Long-term Care Nursing: Jeannie Niemoller [BSN '81; MS '96]
"My mother was afflicted with a brain tumor when I was five years old and was treated surgically, which left her with severe rehabilitation issues and needs. So I grew up with that as a focus. The care she received and the care she did not have at her disposal gave me insight into the needs of disabled persons as they age." [Read more by clicking on title.]
Pediatric Nurse Practitioner/Public Health: Sue Hume [BSN '70; Post Masters FNP '01]
"[What I liked most about my career] is the independence in Public Health, the ability to help children and their families in both Public Health and as a Nurse Practitioner. It was so enjoyable to watch the children grow. As an instructor, it was rewarding to watch the students grow also, and now to hear about them and see them in their careers." [Read more by clicking on title.]
Perioperative Nursing: Sean Rossetter [BSN '07]
"To me, surgery is the most incredible area of medicine -- both fascinating and challenging. The operating room is heavily demanding, and I can be pushed to my limits both mentally and physically. We either save lives or make them better day to day; and at times, seconds can make the difference between a good outcome and a bad one. Working in this area involves being a patient advocate for safety, and orchestrating a cohesive team built out of the strongest personalities in medicine." [Read more by clicking on title.]
Psych Nursing: Nancy McGee [BSN '05; MS PMHNP '07]
"The diagnosing of a psychiatric client is a true art. While this is one of my greatest challenges, it is also one of the things I love most about the specialty as it continually challenges me...My favorite part of my job is truly the patients I work with. Every day I feel privileged to share in the healing journey of the clients I care for." [Read more by clicking on title.]
Public Health Nursing: Johnna French [BSN '11]
"A career as a public health nurse demands that a nurse be a continual lifelong learner in order to keep current with various public health trainings and certifications...Anyone interested in being a public health nurse needs to be comfortable submerging him or herself culturally into a variety of challenging situations; therefore the nurse must be very comfortable in their own culture, ethics and values and be able to see beyond themselves." [Read more by clicking on title.]