Fay W. Whitney School of Nursing
College of Health Sciences
Speed Mentoring 2012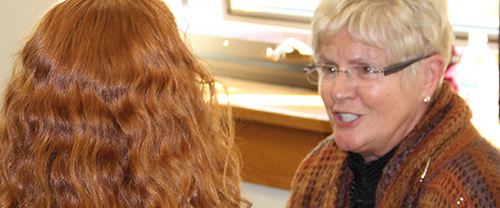 Pictured: Maxine Chisholm (right)
discusses Geriatric nursing with current nursing students
at the "Speed Mentoring 2012" UW School of Nursing event.

---
First Ever "Speed Mentoring" Event
On Friday, October 12, 2012 the University of Wyoming Fay W. Whitney School of Nursing held the first-ever "Speed Mentoring" event on the University of Wyoming campus. Eleven alumni spanning many different nursing careers were situated in eleven separate "pods". Students rotated through the pods two to three at a time and had eight minutes per visit to hear about each particular nursing career and to have an opportunity to ask questions. One student said as she left the event, "This was better than a career fair!  The information was so much more in depth!" Senior student Darcey Cowardin took the time to email after the event: "I thought it was an amazing opportunity to delve into a wealth of knowledge and experience! I also had several 'ah-ha' moments about my future career during the sessions. I hope you will continue this event next year as I think it's an awesome experience!"
Many Nursing Careers Represented
Alumni who graduated as recently as 2011 and as long ago as 1970 enjoyed talking about their careers from pediatrics to geriatrics and long-term nursing, from public health nursing to travel nursing, from labor & delivery and midwifery to hospice. Other popular nursing specialties such as psych nursing, emergency room nursing, and perioperative and first assist nursing found representation in qualified alumni. The excitement about this mentoring event seemed to be equally shared by the students and alumni alike. 
Check out the individual alumni careers by scrolling down and clicking on the heading for each.