UW FWW School of Nursing
Visit: Health Sciences 351
Mail: Dept. 3065
1000 E. University Ave.
Laramie, WY 82071
Phone: (307) 766-4312
Fax: (307) 766-4294
Email:
mailto:uwnursing@uwyo.edu
Applying to the nursing program:
How to be competitive!
Whether you are planning to apply to the nursing program right away (see "A." below) or are preparing for the future (see "B." below), this page holds some handy tips for making yourself competitive.
---
(A.) I have the prerequisite coursework completed for your nursing program or will have by the end of spring semester.
Download the application!

Sounds like you might be ready to apply to the on-campus nursing program ("Basic BSN") at the University of Wyoming Fay W. Whitney School of Nursing. The application for that program is available to download from the web site each December for the following fall admission consideration. Deadline for application is February 1st annually.  If you know that you have completed (or will have completed by the end of spring semester) the prerequisite coursework for that program, then you may be ready to apply and can find the application packet by clicking into the link below:

Basic BSN Application Packet and Admission Criteria

How to be competitive

Make sure you meet the admission requirements which include submitting a complete application packet. [Click in the link above to review application packet items and admission criteria.]

Make sure you submit the materials no later than the February 1 application deadline.

Review application materials carefully to be sure that everything is completed accurately and fully, since missing and/or incomplete data may jeopardize the application and potentially be the cause for admission denial.
(B.) I am in high school; or, I am currently taking prerequisite coursework to prepare for a nursing program, but am not yet ready to apply.
When would I apply to the University of Wyoming nursing program?
You would apply by February 1 in the semester when you will be finishing your prerequisite coursework. [Check out the "Courses/Program of Study" linked bullet on the main Basic BSN program page for a listing of prerequisite coursework.]

How to be competitive

Take writing classes to hone your writing skills. Good quality essays will help make your application more competitive.

Take your classes seriously and aim for a high grade point average. This program requires a minimum nursing grade point average (NGPA) of 2.75 calculated on prerequisite courses, BUT that does not guarantee acceptance. The higher the NGPA, the more competitive you become with regards to that particular admission criteria. Students accepted into the program rarely are at the minimum NGPA. A competitive NGPA would be 3.2 or above, depending on the applicant pool.

High school students: Enroll in college preparatory courses with an emphasis in science, math, and humanities. You will need to have a strong math background to be eligible for College Algebra in the fall of the freshman year along with Biology and Chemistry in order to stay in sequence for continuing science courses. Lower math placement coming into college will delay progression through the nursing curriculum by one year or more, and will also delay your ability to declare pre-nursing.

High school & transfer students: Enroll in a nursing class if your school provides one. This program requires students to be CNAs (Certified Nurse Assistants), so find a CNA class to get a jump-start on admission requirements!
(C.) All students: Some facts you need to know for the future
If you graduate from an accredited nursing program and pass the national RN licensing exam (RN-NCLEX), you will have completed the major preparation for a job.

Background checks are performed for nursing positions - in fact are performed by State Boards of Nursing prior to registering you as a nurse, so "keep your nose clean!" Our school requires background checks as criteria for admission to any of the school's programs.

All nursing positions will require you to provide references, so it is important to do your best work as a student and as an employee if you work during college as a CNA or in any other position. Then, any recommendations you receive from your professors or employers will be glowing and make you a "shoe-in" for a new position!
---
Share This Page:
Become a nursing student!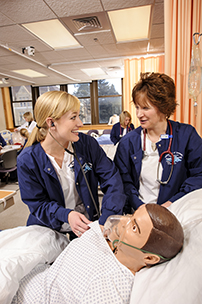 Nursing students practice skills in the clinical simulation center at the University of Wyoming Fay W. Whitney School of Nursing.