UW Nursing Dean & WY Nursing Leaders
Revolutionizing Nursing Education in Wyoming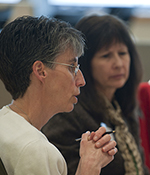 Pictured to the left, Dean Mary Burman meets with Wyoming Nurse Educators.  Burman was quoted by the Robert Wood Johnson Fellowship [RWJF], a charitable organization devoted exclusively to health care issues, in their article of 2/11/2013 entitled, "RWJF Scholars Work to Strengthen Rural Nursing." Burman, an alumni of the RWJ Executive Nurse Fellows, helped secure a "PIN" [Partners Investing in Nursing] grant. The resultant Wyoming "PIN" project is meant "to expand opportunities for nurses to develop leadership skills so they can play a more influential role in the state's health care system," noted the RWJF article.
RWJF article continues...
"Many nurses have not progressed in their education beyond their associates' degrees, which can make it difficult for them to achieve high-ranking positions," said Mary Burman, PhD, RN, dean and professor at the school of nursing at the University of Wyoming and an ENF [Executive Nurse Fellowship] alumna (2007-2009). "The need to work and develop all of us in nursing is really critical."
The Wyoming PIN project [also known as "ReNEW" - Revolutionizing Nursing Education in Wyoming] is also working to create a shared nursing curriculum at academic institutions across the state to make it easier for nurses prepared at the associates-degree level to earn baccalaureate and higher degrees. Streamlining education requirements is especially helpful in a state like Wyoming, which is home to only one four-year school of nursing. When the process is complete, nurses at one of the state's six community colleges will have an easier time earning their baccalaureate degree [from] the University of Wyoming, which will help them build the skills they need to care for an increasing, and increasingly complex, population of patients.
"Our goal is to revolutionize nursing education," Burman said; "…as you look at the future of nursing, we need a different type of nurse clinician."
Wyoming 2013 Nursing Education Summit To Further Collaboration
Burman stresses that revolutionizing nursing education is a collaborative effort amongst state leaders in nursing and nursing education. The next instrumental meeting will be at the Wyoming 2013 Nursing Education Summit May 19th-21st at Western Wyoming Community College in Rock Springs.
----------
Page revised, 3/14/2017