Fay W. Whitney School of Nursing
College of Health Sciences
UW Foundation Article:
"BRAND Program Supports Homegrown Nurses"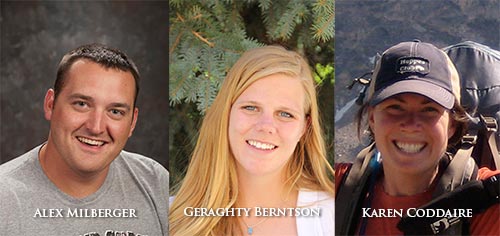 February 2014
The University of Wyoming Foundation recently interviewed students and alumni from the BRAND accelerated nursing program, namely Alex Milberger and Geraghty Berntson, 2013 graduates; and current BRAND student Karen Coddaire, scheduled to graduate in August 2014. These individuals each received the McMurry Nursing Scholarship, funded through The Susan K. McMurry Strategic Partnership for the Advancement of Nursing in Wyoming. They share a commonality in that each desired to become a nurse and make a difference in Wyoming's medical field; each found that BRAND enabled them to stay in Wyoming for studies and for employment; and each found the means to do so with the support from the McMurry grant.
------------------
BRAND stands for Bachelors Reach for Accelerated Nursing Degree. The program is designed for students who already have a non-nursing baccalaureate degree and desire to become a registered nurse.
BRAND program web site: http://www.uwyo.edu/nursing/programs/brand/
------------------
Updated 1/19/2017