Behrens Honored: WNA Lifetime Achievement Award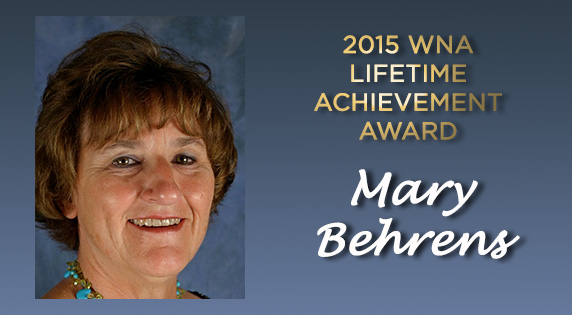 Mary L. Behrens, BSN, MSN, RN, FNP-BC (MS FNP '98)
----------
On September 25, 2015, the Wyoming Nurses Association (WNA) presented their Lifetime Achievement Award to Mary Behrens of Casper...
Behrens is a graduate of the UW School of Nursing's MS Family Nurse Practitioner Program (1998), and currently sits on the school's development board, "Friends of the Fay W. Whitney School of Nursing."
A letter from Wyoming Senator John Barrasso pays tribute to Behrens in the Congressional Record Online at https://www.congress.gov/congressional-record/2015/9/22/senate-section/article/S6891-2. In the text, Barrasso lauds Behrens as "an innovator, leader, and mentor for many nurses in Wyoming, across the nation and around the world."  Here is a listing of some of her accomplishments:
Active on the American Nurses Association board

Active on the UW Friends of Fay W. Whitney School of Nursing development board

One of only three Wyoming nurses nationally recognized as a fellow of the American Association of Nurse Practitioners, FAANP

Member of the 2005 American delegation to the World Health Assembly in Geneva, Switzerland (where she testified on the national nursing shortage)

Involvement with the Friendship Bridge Humanitarian Teaching Project in Vietnam ("...Credited with helping to establish an education pathway for nurses in Vietnam," says Barrasso.)

Civic service as mayor of Casper

Served as Natrona County Commissioner

Served as representative in the Wyoming State Legislature

Received American Academy of Nurse Practitioners "International Humanitarian Award - Long-term focus" in 2012

Received the Nurse Practitioner of the Year award for Wyoming in 2012
Barrasso says, "Mary's extensive activity in shaping public policy truly stands alone, as few people possess such a wide breadth of policy knowledge, leadership skills, and passion for the nursing profession."
Congratulations, Mary Behrens! 
----------