UW Nursing Students Give Flu Shots
to University Community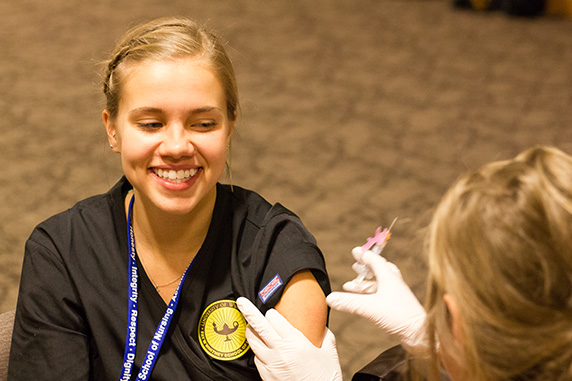 Pictured:
UW Junior nursing student Erin Moran gets ready to receive her flu shot from fellow student, Tatum Teegarten.
-----------
Junior nursing students from the University of Wyoming annually assist Albany County Public Health in administering the season's flu shots. This October, students have been giving flu shots to university faculty and staff in the Wyoming Union Ballroom.
Giving injections is only one of many skills nursing students learn in the fall of their junior year. After faculty show students how to properly perform the skill, students have an intense week of practice, then undergo a "check-off" to make sure they have mastered the art. Only then are students allowed to participate in flu clinics, carefully overseen by nursing faculty to make sure students use proper technique. Due to the sheer volume of patients in such clinics, students quickly become comfortable with what will be a lifetime practice.
---