Nursing Students & Disaster Training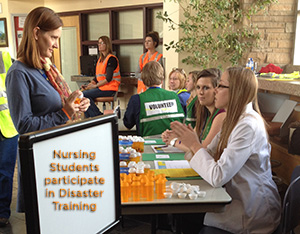 Above, Nursing and Pharmacy students practice screening residents with possible Anthrax exposure.
----------
Albany County Public Health encourages Pharmacy and Nursing student participation
University of Wyoming nursing and pharmacy students were among those participating in an Albany County Public Health disaster training exercise held this semester at the Albany County campus of Laramie County Community College (LCCC). The exercise was called a "Point of Dispensing Drill (POD)."  Students acted as screeners, assisted in dispensing medications, and practiced dealing with distraught patients as they shadowed public health nurses during the drill.
UW Nursing Professor Sherrie Rubio-Wallace teaches the school's public health nursing course. She is greatly enthused about student participation in the drill. Rubio-Wallace says the training not only puts the students' problem-solving techniques to the test, but gives them vital experience and training in the front lines with public health nurses. 
Scenario: possible Anthrax exposure
This particular training dealt with a scenario in which a possible Anthrax exposure had occurred. In the scenario, Geospatial Information mapping helped to locate residents within a known exposure zone. Those residents had been contacted and were asked to report to a POD to receive proper preventative medicines. Actors (other volunteers) played the role of the residents.
In the scenario, there is great concern among residents not associated with the affected area. Those people are also expected to visit the POD as well, so students learn how to calm people down with the facts and professional guidance.
Who can volunteer?
There is a great need for those in the medical professions to step forth and volunteer in disaster training. But the normal citizen is also needed. The American Medical Association says that the need for trained citizens is vital in the first minutes, hours and even days after an event. In their "CitizenReady" guide, AMA notes that "all citizens should seek disaster training."
Above:
The different colors of the candy represent certain medications needed, depending upon an individual's health history.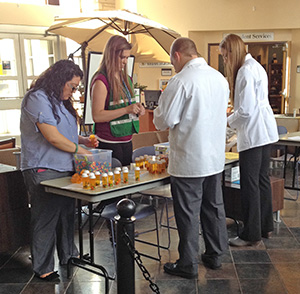 Above:
Nursing and Pharmacy students fill pill bottles for patients who may have had exposure to Anthrax.