Aspire Program Leadership Workshop
With Deborah Center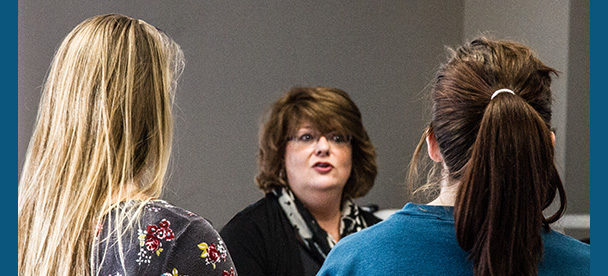 Developing leaders in nursing to advance the profession
Program funding provides for workshop
As a result of the funding from Casper's Mountain View Regional Hospital in support of the Marcia Dale Aspire Scholars Program, the UW FWW School of Nursing brought in Deborah Center, registered nurse and executive coach from Colorado Springs. Center packs thirty+ years experience in acute care, long-term acute care, nursing education and nursing leadership/ administration. She led a day-long workshop in January for the Marcia Dale Aspire Scholars, titling her program, "Leadership: Finding Your Voice & Growing the Leader Within." 
The program, according to Center, is a highly interactive leadership development intensive that focuses on growing individual nurse leader awareness and effectiveness. "Leadership development starts within you," Center explains to the students. "Together we will explore leadership concepts and identify strategies to apply immediately into personal and professional lives."
About the Marcia Dale Aspire Scholars program
The Aspire program - recently re-named the Marcia Dale Aspire Scholars Program in honor of the late Dr. Marcia Dale, former dean of the school of nursing - exists to encourage, promote, and nurture scholarship, leadership, and professionalism in future nurses. For more about the program, including application criteria, please click here: Marcia Dale Aspire Scholars Program.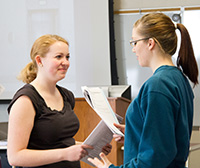 (above and below):
Aspire students work on the skill of introducing oneself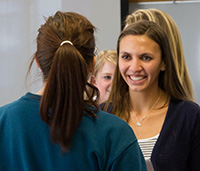 (below):
Aspire student works through
problem-solving potential
situations with patients