Julian Good
2016: Excellence in Advanced Practice Nursing Award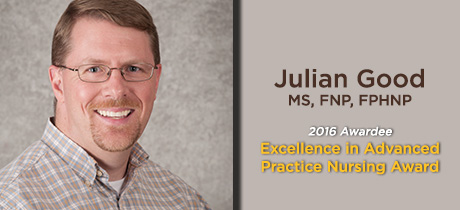 The Doctor of Nursing Practice (DNP) faculty is pleased to announce the selection of Julian Good as the School of Nursing's 2016 recipient of the Excellence in Advanced Practice Nursing Award for his significant contributions in the areas of clinical practice and leadership. 
Career expands as Julian Good seeks to meet mental health needs
From 2002-2006, Good worked as a Family Nurse Practitioner (FNP) in a small rural community in northern North Dakota, where he honed his primary care skills. In 2006, he joined the University of Wyoming Family Practice Residency Program at Cheyenne, providing primary care services and assisting in the general management of the residency.
In 2010, recognizing that both the Cheyenne community and the Residency program were in dire need of psychiatric expertise, Julian returned to UW to obtain his post-master's certificate as a Psychiatric Mental Health Nurse Practitioner (PMHNP). As the Cheyenne Residency did not have a mental health provider at the time, Julian developed a proposal for a mental health position at the Residency. His proposal was approved by the UW administration, and Julian is now providing desperately needed mental health services at the Cheyenne Residency and teaching mental health to the family practice residents.
Current status
Good continues to strive to be as effective as possible, and thus is now completing a Doctor of Nursing Practice (DNP) degree at North Dakota State University. He will graduate in May of 2017. In addition, he routinely collaborates with FWW School of Nursing faculty regarding proposals to improve primary and mental health care at the Residency and also facilitates training needs of the school's students.
Director of UW Nursing's Doctor of Nursing Practice Program, Dr. Ann Marie Hart, summarizes the contributions Good has made through his practice, thus meriting the school's 2016 award: "Julian routinely takes action whenever he sees a health-related need and is a role model for advanced practice nursing."
Award to be presented in November
The Excellence in Advanced Practice Nursing Award will be presented to Julian Good at the school's "Willow Ceremony" on November 17, 2016. The ceremony encourages Doctor of Nursing Practice students as they continue to prepare for their chosen careers as Family Nurse Practitioners or Psychiatric Mental Health Nurse Practitioners.
----------
Story posted 8/04/2016