Nurse Leader in Nursing Education
LEADERSHIP IN NURSING SERIES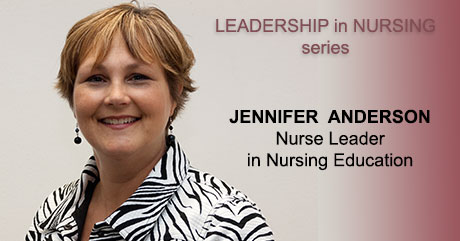 NOTE: On September 15 each fall, the University of Wyoming Fay W. Whitney School of Nursing mails out the school's annual Alumni Newsletter magazine/publication. The theme of the 2016 issue: Leadership in Nursing. The following spotlight is taken from that publication, where the goal is to recognize nurse leaders in diverse roles. Return to the web weekly for spotlights on other nurse leaders in their respective roles.
----------
Jennifer Anderson, MSN, RN...
Nurse Leader in Nursing Education:
"The most effective leaders," says Jennifer Anderson, "are those who are comfortable with their leadership abilities and are able to allow those around them to be creative and do their jobs."
Anderson's leadership at Laramie County Community College's Nursing Program is a case in point. Anderson humbly states, "I don't think I am necessarily the best nursing educator," then gets realistic: "...but I have great leadership skills, and therefore, am able to let the gifted educators take care of the day-to-day learning while I stay focused on the big picture and orchestrate all of the moving parts to create and maintain a top-notch nursing program."
What has Anderson's type of leadership produced? "This has allowed the nursing faculty to try new things," reflects Anderson, "[to] advance their education and provide nurses that are professional, competent and empowered to the community and surrounding region."

----------
Story posted 8/22/2016