Nurse Leader in Public Health Nursing
Leadership in Nursing Series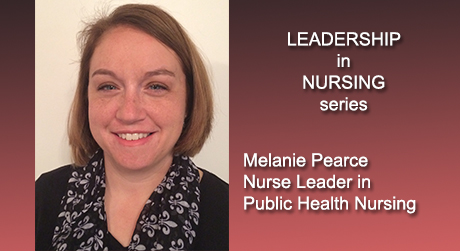 NOTE: On September 15 each fall, the University of Wyoming Fay W. Whitney School of Nursing mails out the school's annual Alumni Newsletter magazine/publication. The theme of the 2016 issue: Leadership in Nursing. The following spotlight is taken from that publication, where the goal is to recognize nurse leaders in diverse roles. Return to the web weekly for spotlights on other nurse leaders in their respective roles.
----------
Melanie Pearce, DNP, RN
Nurse Leader in Public Health Nursing:
Melanie Pearce chose to start her submission with a quote:
"A leader is one who sees more than other see, who sees farther than others see, and who sees before others do." - Leroy Eims
Pearce herself says, "Public Health challenges are growing, not diminishing." And building on Eims' thought, she continues, "With the goal of improving population health, there is an increasing need for public health leaders who can see what change is needed and organize people, agencies, and communities to tackle those changes."
Pearce seeks to rise to such a challenge: "My position in public health allows me to influence those at the local level as well as the program and service decision makers at the state level to help move change along."
----------
Story posted 9/02/2016