Dean Mary Burman: WWI Nursing
"But I just had to brace up and do my best"
UW Libraries Lecture Series:
Dr. Mary Burman, Dean of the University of Wyoming Fay W. Whitney School of Nursing, will use diaries, letters, and other sources to illustrate the experiences of nurses during World War I, focusing on American nurses who served overseas. The impact of military service in WWI on individual nurses and also the profession of nursing in the United States will be described.
----------
Details
DATE: Monday, September 11, 2017

LOCATION: Coe Library 506

TIME: 2 p.m.

The presentation can be viewed on YouTube at https://youtu.be/dDAVfdE0AJw.
----------
In addition to the lecture...
The Army ROTC Color Guard will post the flag

The Harley-Fadial Duo and UW Graduate Spring Quartet will perform WWI era music

The History Club will provide light refreshments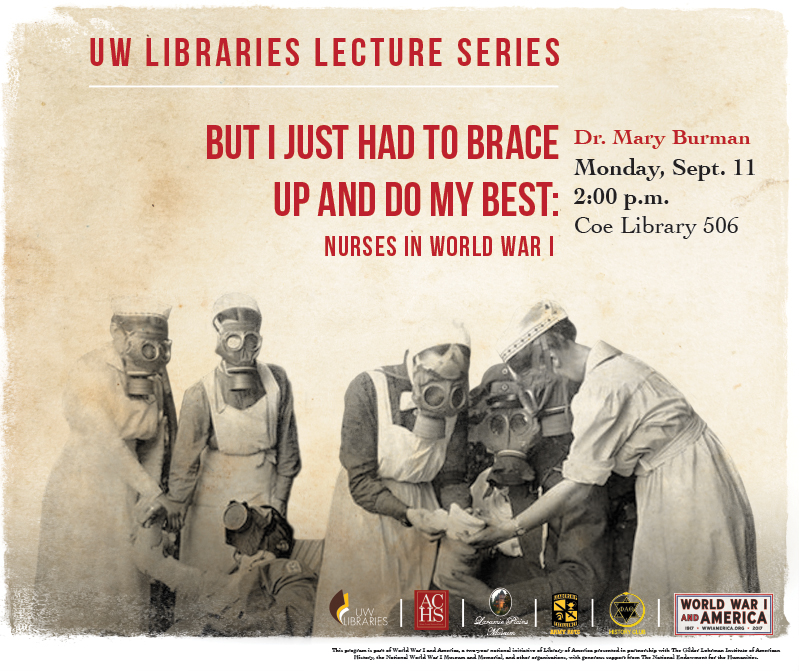 This lecture is brought to you as part of the UW Libraries Lecture Series.
----------
Updated: 9/14/2017