Dr. Sue Lowe: 2017 Awardee
Peter K. Simpson Advanced Practice Nursing Fan Award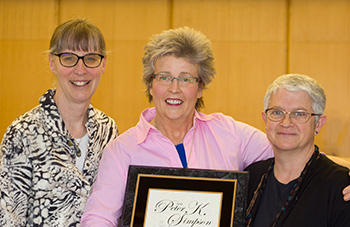 ----------
Pictured:
Dr. Sue Lowe (center),
with UW School of Nursing Dean, Mary Burman (left),
and DNP faculty member Esther Gilman-Kehrer (right)
----------
2017 APNF Awardee
Sue E. Lowe, O.D., FCOVD, FAAO, an optometrist at Snowy Range Vision Center in Laramie, Wyoming, is the 2017 Peter K. Simpson A.P.N.F. Awardee. A.P.N.F. stands for "Advanced Practice Nursing Fan." The University of Wyoming Fay W. Whitney School of Nursing presented the award to Lowe in April at the Doctor of Nursing Practice (DNP) Program's annual Willow Ceremony, an event encouraging DNP students as the progress in their program of study.
Supporting APNs since the 1980's
Dr. Lowe has been supporting advanced practice nurses since the 1980s, when she first formed a relationship with the School of Nursing to help teach vision and eye health to nurse practitioner (NP) students. "Although we don't know the exact year that Sue first started teaching for the NP program," says DNP Program Director Ann Marie Hart, "we know that she has been doing this for at least 30 years, and we suspect that most if not all graduates from our NP program have been taught by Dr. Lowe."
Instruction for students and guidance to faculty
Every year, Dr. Lowe has worked with her colleagues from Snowy Range Vision Center to hold a vision night for the UW NP students. The future nurse practitioners receive intense, hands-on instruction on vision and eye exam techniques. Dr. Lowe also provides guest lectures for NP students on a variety of eye and vision topics, and provides guidance to the nursing faculty on eye and vision health curricula as well.
Choosing Lowe for the APNF Award
"Although Dr. Lowe has provided hundreds of teaching hours to our NP program and its students," says Hart, "she is not receiving this award due to her impressive track record. Rather, Dr. Lowe is receiving this award because of her decades-long enthusiasm and support for advanced practice nurses, especially NPs. Dr. Lowe respects the work of NPs. She values what NPs do and does not see them as inferior health care providers. She advocates for expanded NP roles and is always complimentary of their role."
----------
From Dr. Lowe...
Involvement with APNs and Dr. Fay W. Whitney
Lowe, looking back over her career, says, "It has been extremely rewarding and beneficial for me professionally and personally to have been involved with the advanced practice nurses over the years." Lowe came on board as an adjunct faculty teaching ocular disease and vision testing when the school's namesake, Dr. Fay W. Whitney, directed the FNP program. "Dr. Whitney was a true inspiration to me," says Lowe, "and has been a visionary mentor to the APN students at UW."
Lowe continues her praise of UW nursing faculty teaching in the DNP program, "...who are continuing to exemplify, lead and educate in advanced interprofessional healthcare. They provide guidance to promote and preserve the health and well-being of our patients."
Speaking to today's complex nature of health issues...
...and future healthcare systems, Lowe predicts that "it will continue to require DNP's to work collaboratively with all disciplines to achieve the desired patient outcomes.This will always include advocating health and welfare policies for the benefit of individuals and their communities."
"You as DNP's will continue to improve and save lives," says Lowe. "You did mine."
----------
Please scroll down for more about the Peter K. Simpson APNF Award
----------
How the Peter K. Simpson APNF Award came about
Peter K. Simpson's background
Peter K. Simpson - best known as "Pete" - is a native of Cody, Wyoming. He is a retired historian, politician, and a member of the Simpson political family. Pete worked in academia for many years, including Casper College, Sheridan College, and finally UW, where he served in multiple prominent roles, including the vice president for development, the executive director of the UW Foundation, and vice president for institutional advancement. After his retirement in 1997, Pete remained in Laramie and taught history and political science on an adjunct basis. His political career involved serving on the Wyoming legislature. During his four-year stint in the legislature, he was a member of the House Appropriations Committee.
Pete has remained active in his retirement years. He makes frequent trips to Laramie and UW. He enjoys acting and regularly seeks out thespian opportunities with his wife, including leads in plays and musicals such as "The Music Man", "Our Town" and "On Golden Pond". 
Simpson inspires new award
Despite his strong academic, political, and acting accomplishments, Pete is best known for being a wonderful, kind man, who loves Wyoming and its people. Thus in 2012, when Loretta Ford (founder of the NP profession) agreed to visit UW, the school of nursing invited Pete to interview Loretta in a public forum. Despite having never met Dr. Ford, Pete did a wonderful job with this interview and seemed to thoroughly enjoy Loretta's playful sarcasm. That evening, Pete joined the school for the 9th Willow Ceremony and shared how much he admired and respected NPs. He then surprised the audience by proclaiming that he was adding a new credential to his title – "A.P.N.F. – Advanced Practice Nursing Fan." Thus, in honor of Pete and his admiration of Advanced Practice Nurses, the DNP Program created the Peter K. Simpson, Advanced Practice Nursing Fan Award to honor an individual who is not an advanced practice nurse, but who shares Pete's admiration and respect for such.  
----------
Article posted 4/25/2017