About 2017 Speed Mentors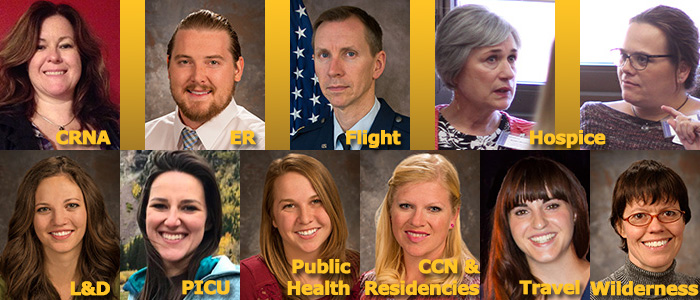 Pictured:
top row l-r: Cynthia Keyfauver, Rustin Myrick, Samuel Millar, Susan Bertilson, Shannon Smith.
bottom row l-r: Ruth Lewis, Mary O'Connell, Samantha Baker, Michelle Duay, Dani Johnson, Annie Wislowski.
----------
SPEED MENTORING 2017:
ELEVEN Mentors Share Careers with Students
The 2017 Speed Mentoring session, brought to UW courtesy of the UW Alumni Association Nursing Chapter, was a great success this November. Nine mentors were involved that day, either online or in person, and two (who couldn't be there that day) sent in their information for the spotlight. Scroll down to read about each of the mentors/careers. 
What is "Speed Mentoring"? 
It's sort of like Speed Dating: we have pods set up for each mentor. When the timer rings, the mentor has four minutes to tell about themselves and their particular nursing career focus. They cover what drew them to that career; how they prepared for it; what they loved best about it; and what was the most challenging. Then students have four minutes to ask questions before taking two minutes to travel to the next pod.
Some Student Feedback
"It was a lot of fun, and it gave me more of an idea of where I want to start after school!"

"I loved the speed mentoring! Really gave ma an idea of what type of nursing I want to pursue. I liked that there was a large variety."

"It was so inspiring and exciting to hear about the myriad of specialties available as I pursue a career in nursing. The advice the speakers offered was very helpful and greatly appreciated. I learned so much, and I hope there are more Speed Mentoring Sessions in the future!"

The Skype/FaceTime was a super cool idea and surprisingly worked really well! [One of the mentors was in South Carolina, another in Colorado].
We also received great ideas for making the event even better for upcoming years. Here are a few of the comments:
I think if you would allow two more minutes for questions, it would have been even better.

Add a professor as one of the spots for next year, mentoring in education.

I would have liked to talk to a rural nurse and a travel nurse. [Our travel nurse couldn't come that day to the event, but she sent information that we've included in this spotlight below.]

The only thing I would change is that after the session is over, add another 20 minutes for students to go back to mentors. That way they have time to ask more questions to specific fields they liked.
And from onlooking staff
"OMGoodness the event was wonderful. The students were fully engaged, asking lots of questions and enjoying each and every mentor they visited with. I liked how they had to rotate to the next pod, even though they thought maybe they weren't interested, and once seated they showed lots of interest. Very enthusiastic and pleasant event. Do not ever let this event die (maybe add dessert to the menu!)."
MENTORS
Page posted 11/30/2017