Junior students honored with summer internships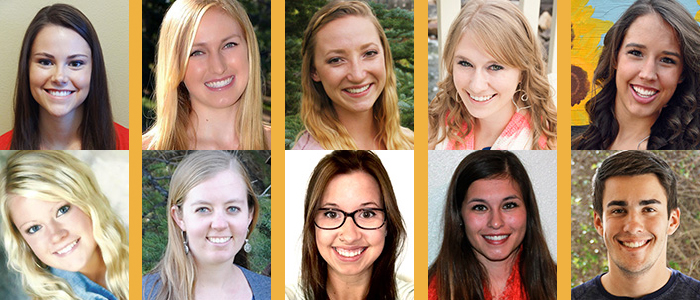 Pictured:
top row l-r: Lindsay Rockvam, Lauren Mochowski, Ashton Peterson, Paige Leonard, Sara Pepper
bottom row l-r: Morgan Jacobs, Nicole McConnell, Emily Zachman, Brooke Lensegrav, and Ryan Russi
..........
Students have exciting summer ahead
Ten University of Wyoming Fay W. Whitney School of Nursing juniors (who will be seniors as soon as coursework is successfully completed this month!) will be heading off to summer internships shortly. Internships [some agencies call them externships] are highly sought after by students, and usually applied for in the fall. Typically agencies that offer summer internships are offering them to students who will be senior year BSN candidates by summer. To qualify, they must have completed their junior year in a BSN program as well as at least one clinical rotation prior to the start of summer placement.
The value of Internships/Externships
These summer learning experiences give the students the skills to "hit the ground running" in the senior year. Professor Kim Raska-Miller, who oversees clinical placements for course-related clinicals, says these valuable internships equip the students with "the confidence and preparation to handle the rigors of the senior capstone clinical course."  The course she mentions is the last course the nursing students take prior to graduation, always offered in the spring semester of the senior year (spring 2018 for these students).
How to find Internship/Externship opportunities
Students often find out about the agencies that offer externships by attending the annual UW Nursing and Health Professions Career Fair in the fall. Next fall's fair date will be set and noted on the web site within the next month through the UW Nursing & Health Professions Career Fair. Check the nursing home page for the career fair updates!
From the students
Scroll down to read quotes from the nine students about their upcoming internships. A hearty congratulations to each!
----------
Page updated 5/4/2017