Contact Us
UW School of Nursing
1000 E. University Avenue, Dept. 3065
Laramie, WY 82071
Phone: 307-766-4291
Fax: 307-766-4294
Email: uwnursing@uwyo.edu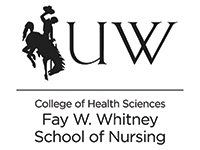 Marilyn Hall Outstanding Teaching in Geriatrics
May 14, 2018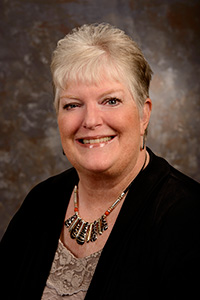 UW Nursing faculty member Marilyn Hall wins CHS Faculty Award for Outstanding Teaching in Geriatrics
LOCAL DATELINE (May 12,2018) – Marilyn Hall, UW Nursing Faculty member, was honored at the College of Health Sciences Faculty Awards ceremony recently with the CHS Faculty Award for Outstanding Teaching in Geriatrics.
Hall's nominators wrote the following in support of Hall for the award:
Hall's contributions
Marilyn Hall has made significant and valuable contributions in clinical teaching in the Adult Health II Practicum for junior nursing students over the past 5 years, and is recognized for her compassion for the geriatric population and her passion for teaching nursing students in long term care, assisted living, and memory care settings. Hall has enhanced the clinical practicum course for students by creating unique experiences to supplement their learning. She took on the challenge of developing a specialized clinical experience on the Memory Care Unit at Spring Wind Assisted Living, and developed a packet of learning activities and used concept-based teaching methods.
New teaching-learning approach
Further, Professor Hall developed a new program in collaboration with the nursing director and staff at Spring Wind called "Adopt a Nurse." She created this approach as a way to bring residents, staff, and students together in therapeutic relationship, supporting client-centered care and quality for both the residents of the facility as well as the students.
Marilyn's determination to create a new teaching-learning approach was very exciting for all the clinical teaching faculty in the course. One peer stated, "She easily establishes relationships with the older population because of her calm, caring, and compassionate demeanor. It is evident that she loves the older adults!"
Continuing specialization
Hall has invested in specialized continuing education and certification in geriatric care, having earned 14.25 hours of dementia training and obtaining the Advanced Level of the Wyoming Council on Aging Dementia Care Certificate.
Hall's nominators focus their encouragement to her personally:
"Marilyn, it is evident from these examples and others, that you are truly making a difference for your students and for the growing population of elders in the State of Wyoming. Thank you for your contributions that have earned you the 2017-2018 College of Health Sciences Faculty Award for Outstanding Teaching in Geriatrics. Congratulations!"
Contact Us
UW School of Nursing
1000 E. University Avenue, Dept. 3065
Laramie, WY 82071
Phone: 307-766-4291
Fax: 307-766-4294
Email: uwnursing@uwyo.edu