Mary E Burman Fund Endowed
for Student Experiential Opportunities in Nursing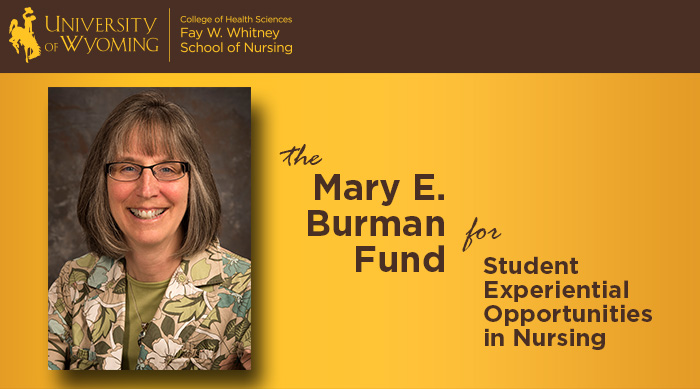 Endowed Fund Honors Burman by Expanding Opportunities for Students 
In Summer 2019, Mary E. Burman stepped down from a 12-year deanship at the University of Wyoming Fay W. Whitney School of Nursing, returning to her faculty role. As a farewell gift, friends, family, and colleagues endowed a fund in Burman's name, giving her the opportunity to decide what the fund should be used for.
"I have designated the fund to support student experiential and professional development," says Burman. "I invite you to join me...in supporting and growing this endowed fund. Quite frankly, the bigger the endowment, the more students we can support through experiences that expand and extend what they are already getting in their programs!"
Read about students who have experienced the type of opportunities Burman hopes to provide by downloading the PDF letter mailed to nursing supporters.
----------
How to Donate
You can donate using any of the following means, making sure to specify that your gift goes to the Mary E. Burman Fund for Student Experiential Opportunities in Nursing:
Burman's letter and form has been pasted as a picture below:
----------------------------
Posted 2019-10-10 / Updated 2020-09-02