Student Emergency Fund: COVID-19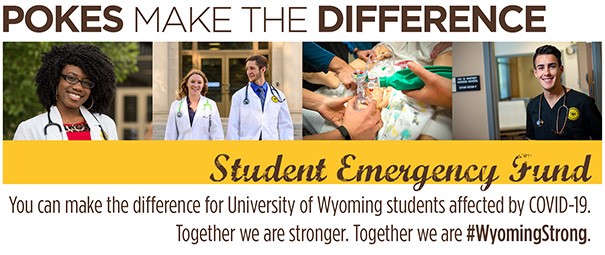 ----------
----------
FROM NURSING DEAN SHERRILL SMITH
Our nursing community was excited earlier this year that 2020 was designated the "International Year of the Nurse and Midwife", honoring Florence Nightingale as the first professional nurse on the 200th anniversary of her birth, but also honoring the profession of Nursing as the most trusted and ethical profession for 18 years in a row (Gallup Polls). We didn't know at the time that nurses and medical professionals would be asked to respond to support the global COVID-19 pandemic, but we burst with pride, compassion, and thankfulness for all their amazing work in the midst of this world-wide tragedy.

But right now, as a university community, we are greatly concerned about the difficulties our students face. Our UW students—including our nursing students—are being challenged to continue in their studies as they struggle to meet financial obligations. Students who previously had employment either on campus or in the local community, have now lost positions that provided them income to pay tuition, rent, food, etc. I have already been approached by several of our nursing students who are needing assistance at this time. While we recognize that this period is difficult for all of us, we are reaching out to you to ask for your support for a brand new University of Wyoming campaign. The University of Wyoming Foundation Board of Directors has provided $250,000 in matching funds to create a new student emergency fund. Please read the Student Emergency Fund description below. Together, we 'Pokes Can Make a Difference.' Thank you for your consideration and continued support of our students. Feel free to share the information with those who might be in a position to contribute at this time.

Very respectfully,
Sherrill Smith, Dean
UWYO Fay W. Whitney School of Nursing

---------------
Making a gift to the UW Student Emergency Fund, where your gift will be matched:
You can make the difference for University of Wyoming students adversely affected by COVID-19. Funding supports financial emergency needs—housing, food, technology access, and more—for our UW students as they work so very hard to keep their education aspirations on track during a time of national and global health crisis.

Thanks to the leadership and generosity of the University of Wyoming Foundation Board of Directors, $250,000 is being committed immediately to create a matching fund to encourage your giving to Pokes Make the Difference. The UW Foundation's doubling match and your support will create a $500,000 fund for UW student needs in very short order.

Visit the following web page to make a gift:
www.uwyo.edu/studentemergencyfund
Please join the UW family during this time of need for students. Your support at any gift amount is deeply appreciated. Know that all contributions will have a direct and significant impact.

If you would like to, please also consider sharing messages or photos of hope and support for students on social media. You can also encourage others to make a gift by sharing your support. Feel free to use the hashtag #WyomingStrong.
Thank you !!!
----------
Story placed: 4/2/2020