Convocation Awards & Speaker 2021
Fay W. Whitney School of Nursing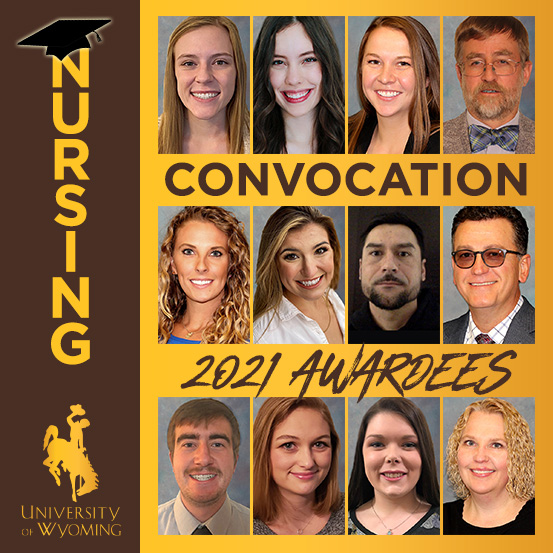 Pictured top row, left-right:
Emily Albury, Tija Allen, Samantha Baker, Jerry Hamann.

Pictured middle row, left-right:
Lauren Hamilton, Kathryn Haugen, Marc Hayden, Roland Maldonado.
Pictured bottom row, left-right:
Matt Moran, Lily Myers, Kelli Schueler,  Kristin Wilkes.
---
University of Wyoming Nursing Students Recognized at Convocation 2021 Virtual Ceremony
Congratulations to the 12 students pictured above, who were honored in the virtual 2021 Nursing Convocation Ceremony production on Friday, May 14.
Speaker
One Doctor of Nursing Practice candidates was chosen to speak to the 2021 graduates due to her leadership throughout her tenure in her nursing programs: Lauren Hamilton, Family Nurse Practitioner DNP Candidate
Hamilton's speech is included in the virtual ceremony video at 
http://www.uwyo.edu/nursing/graduation/index.html
Awardees
Students receiving awards who are graduating from the Doctor of Nursing Practice (DNP) Program: Lauren Hamilton, Samantha Baker, Roland Maldonado, and Kristin Wilkes; from RN-BSN Completion, Marc Hayden; from the on-campus Basic BSN: Tija Allen, Emily Albury, Jerry Hamann, Kathryn Haugen, Matt Moran, Lily Myers, and Kelli Schueler. 
Please scroll down for descriptions of each individual's award...
------------
05/14/2021