Janet Rankin Keynote Speaker
School of Nursing Research & Scholarship Day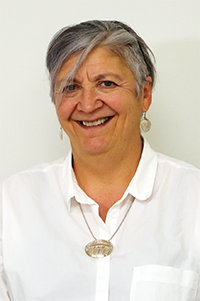 -------------------------
Pictured: Janet Rankin, PhD, RN
from the University of Calgary
-------------------------
Dr. Janet Rankin will be the keynote speaker at the School of Nursing Research and Scholarship Day on April 21, 2021. She will present her work in institutional ethnography. The public is invited to attend the event, which will be held virtually.
ABOUT RANKIN'S WORK 
Rankin has done extensive supervision of graduate students who have used Institutional Ethnography (IE) across a variety of disciplines (nursing, sociology, human geography, community health sciences, and international development). Dr. Rankin consults internationally, conducting IE workshops in Canada, Netherlands, New Zealand, Australia, USA, and Qatar.
Rankin explores social organization of nursing work. Drawing on IE's feminist origins, she explores health information technologies with a focus on electronic health records to find how knowledge works in contemporary nursing. 
ABOUT INSTITUTIONAL ETHNOGRAPHY (IE)
IE is a critical form of sociological inquiry founded by Dorothy Smith, Canadian feminist sociologist.

IE is an alternative sociology describing the social world (ontology), the knowledge required to understand our social world (epistemology), and how we go about collecting that knowledge (methodology).

Key construct: our social world and everyday activities are controlled/coordinated by written texts and the discourse of the institutional or ruling relations of our society. (Adams, Carryer, & Wilkinson, 2015)
ABOUT the SCHOOL OF NURSING RESEARCH & SCHOLARSHIP DAY 
The 2021 Doctor of Nursing Practice graduates-elect will present their quality improvement projects at the School of Nursing Research & Scholarship Day as well. The projects occur in collaboration with providers and administrators from partnering clinical agencies, addressing specific agency needs. 
----------
Story posted 04/17/2021