Marcia Dale Aspire Scholars Program:
Focus on Nursing Leadership/Development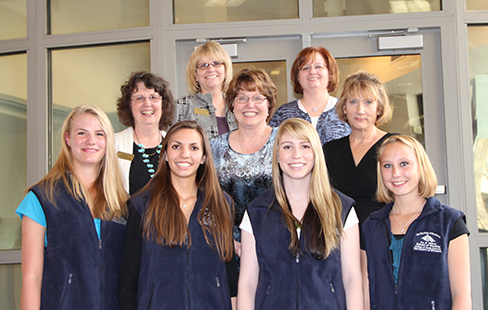 Pictured: Inaugural Aspire Scholars with instrumental school faculty and staff.

---
The birth of the Marcia Dale Aspire Program 
In collaboration with the University of Wyoming College of Health Sciences (CHS) Aspire program, the Fay W. Whitney School of Nursing (FWWSON) has developed the Nursing Aspire program, newly named the Marcia Dale Aspire Scholars Program. The program will focus on nursing leadership and development, accepting four freshmen students annually. Nursing faculty Aspire coordinator Sherrie Rubio-Wallace will implement a new leadership curriculum she has written specifically for the new program this fall.
What is Aspire…and why does the school sense a need for it?
"The school faculty decided to start Aspire and focus on leadership development because we wanted to have more time to work with and mentor students," says Sherrie Rubio-Wallace, faculty coordinator for Aspire. "Normally students are in the nursing major (on-campus "Basic BSN" program) only during their last two years, and by the time they get 'into the groove', it is time to graduate. Aspire offers the opportunity for students to begin engaging in professional activities and personal development before they are in the major. By continuing their Aspire activities in those last two years of the major, they are a stronger voice for leadership in our program.
How does the school define "leadership" and how will nursing leaders be fashioned through Aspire?
"My definition is that leadership is creating a positive change," says Rubio-Wallace. "Whether working as a nurse in a hospital or community setting, working as a caregiver or a manager, working on an issue of patient care or an organizational problem, there are opportunities to make a positive change. A personal definition of leadership will evolve with our students as they develop through entering nursing school, becoming new graduates, and becoming experts in their field. "
The school plans to fashion the Aspire Scholars into leaders through "working together in small groups, discussing leadership topics, mentoring, providing opportunities to take a leadership role, and helping to guide the students' personal development as leaders," says Rubio-Wallace. These "plans" have already been implemented. "Last semester we discussed Steven Covey's The Seven Habits of Highly Effective People with the Aspire scholars and worked out individual mission statements," says Sherrie. The students also had the opportunity to attend last fall's "Days of Dialogue" in Casper, meeting and spending time with Susan Hassmiller, senior adviser for Nursing at the Robert Wood Johnson Foundation. There they heard state nursing leaders discuss "What do we want nursing to look like?" In addition, Aspire Scholars participated in interprofessional activities, Wyoming Legislative Days, UW Discovery Days, UW's Alternative Break Program, health fairs, and the FWWSON Open House, serving as ambassadors for the school. In upcoming semesters and years, the Aspire cohorts will connect with and learn from each other as well as interact with Aspire students from other departments in the College of Health Sciences. 
How will "Aspire" Benefit the school, healthcare in general, and the individual Aspire scholars??
"The Aspire program is a very exciting initiative for our school," says Dean Mary Burman. "The Aspire Scholars are already leaders and they will undoubtedly play a critical role in nursing and health care over the coming decades. We imagine Aspire Scholars becoming presidents of the Wyoming Nurses Association, chief nursing officers in health systems, chairs of practice councils, and even deans of schools of nursing."
The more-immediate stated benefits of the Marcia Dale Aspire Scholars Program for students accepted into the program are professional growth; development of leadership, communication, and collaboration skills; and guaranteed admission to nursing major component in their junior year. But perhaps the Aspire scholars themselves can best note the benefits of this prestigious program in their own words [scroll down]:
Margaret McDonnell:

I knew from the beginning I wanted to be a nurse that made an impact and could make a difference in the nursing profession. Through Aspire I have been given many opportunities to become a better leader, meeting many current nursing leaders, and gaining the knowledge that will help me achieve my goal.

Elinore Simpson:

I enjoy taking part in the learning experiences that Aspire provides through its interprofessional activities, conferences, discussions of current issues in the nursing profession and scholarly projects. Being in the ASPIRE program has given me an insider's view to the nursing profession and cemented my commitment to being a leader in my field.

Madison Vigil:

It is an honor to be chosen to be a part of the Aspire program. It provides me with invaluable opportunities to develop my leadership skills and prepare me to become a leader in the nursing field. I have met amazing nursing professionals who are able to mentor me through my education and beyond.

Amber Wright:

I have been given an opportunity to develop my leadership skills even further, so that I can one day be a great leader in nursing. This program has also allowed me to meet other future leaders on the same path as myself, and it has given me great role models and mentors.

Alexa Blare:

I believe that the Aspire program is the best way to continually grow as a student of nursing. It holds wonderful opportunity to grow as a leader, a scholar, and a person. One opportunity in particular is to build strong relationships with my advisors and professors. I believe that developing mentors is one of the best ways to succeed as a nursing student.

Mary Marshall Brame:

I want to become the best student I can be, and the best leader I can be. I know that if I put myself to the task, I can become a leader people will care about and want to follow. I know that with Aspire's help, I can achieve these goals.




Amy Michael:

I applied for Aspire since it seemed like a good opportunity to get more involved in the nursing program, as well as get to know nursing professors. It will also give me a chance to learn more about the opportunities available in the nursing profession. What does being part of Aspire mean to me? It means more opportunities, more knowledge, and better preparation.




Rachel O'Connor:

To me, Aspire is the opportunity to become involved with a group of students who are striving towards the same goals I am and to be involved in learning outside of the classroom setting.




For more about the Marcia Dale Aspire Scholars Program (admission requirements, application, etc.), click into this link.
---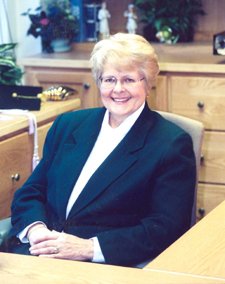 The late Dr. Marcia Dale (former dean of the School of Nursing) loved students, greatly enjoyed mentoring them, and was also undoubtedly the epitome of a leader. For these reasons and many more, the Aspire program has been renamed the "Marcia Dale Aspire Scholars" program in her honor. Please click on the link to read more about this exceptional woman.
Honoring Dr. Dale by supporting the Aspire Scholars
Desire to support the Aspire Scholars in the name of Marcia Dale? Click in the link below to "Give to Nursing" - and note that you would like your gift to go to the Marcia Dale Aspire Scholars.
Aspire Admission Requirements
For a full description of Aspire including admission criteria, application,etc., click into the following link.